Legal Issues in Corrections
By Terry Campbell, Professor, Purdue University Global
Published: 04/16/2018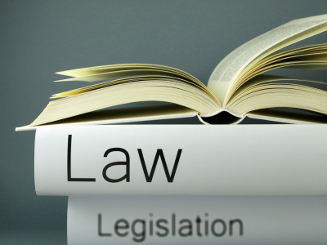 Regardless of what corrections field you are employed in, you need to be knowledgeable about legal issues. Often, our first encounter with corrections legal issues occurs when some employees are working toward completing their education, training academies, and in-service training. In addition, we have our daily work activities and on-the-job learning experiences. The next question may be, just how prepared are we.

During our initial training, we received training on legal issues in corrections. The so-called 'hot topics' at that time and brief history of corrections legal issues, probably were the extent of our training. I am sure, dependent on when you started the academy, emphasis was placed on prison litigation and rights of offenders, grievances, Prison Litigation Reform Act, and other issues. Also during training we learned about policies, procedures, post orders, etc. Now you are trained and meet the minimum training hours to be an officer and have the necessary tools to address legal concerns and make decisions. This information leads me to ask; how prepared was I upon graduation and could some potential legal action have been prevented? There is a correlation between knowing and understanding the various policies, procedures, previous court rulings, etc., and how this assists staff in performing their duties and making correct decisions.

I found it useful over the years to review outside professional information and legal updates. I wanted to be prepared and able to support and justify my actions. This included review of any federal court rulings in my respective U.S. Court Circuit and other areas. A key, as you know is being prepared and confident in your decisions based upon your training, understanding of legal issues, policies and procedures, and other areas. When I go to court, I want to prevail. This requires adequate preparedness on my part.

There are many legal cases filed by employees and offenders. I prefer that when legal rulings are adverse against the department, this information should be shared with staff. The agency can also review and see specifically what the ruling was and why. Did the officer make a poor decision, is this a training issue, do policies and procedures need to be adjusted, appeals, and as you can see there are many factors to consider. Unfortunately in some instances, the flow of information was non-existent.

The warden and/or other title is the one ultimately responsible for the overall safety, security, and administration of the unit. All of us have worked for some excellent administrators while others were not so acceptable. The management style and leadership qualities come into play. These individuals, along with their teams, set the tone and direction for the unit. At the same time, there is a variety of information collected that can be analyzed to identify many problems and concerns early on. Along with this will be effective communication at all levels and staff feels a certain level of respect and trust. As I alluded to earlier, some litigation could possibly have been prevented.

There are many challenges faced by all working in corrections. I conducted some research for this article and included some key areas to consider. My comments include some specific areas and there are certainly many more. At the same time, I included a title and web site for you to access additional information. After you review this information, see if any of these specific areas are common challenges at your unit. Also, see if you can identify some of the legal issues for each area.
Cell phones
Drones
Restrictive Housing Challenges
Right of Offenders Confined
Large Jail Network Meeting
Many correctional agencies are attempting to control cell phones entering the prisons illegally. There are many ways this occurs and, unfortunately, yes, some of our employees are involved. Corrections has also experienced a variety of contraband entering the prisons via drones. The following website contains some additional information and how these areas identified are problematic for the Bureau of Prisons also. (Justice Department Scrambles to Jam Prison Cellphones, Stop Drone Deliveries to Inmates).

Restrictive Housing continues to be a concern and rightly so. There are three main areas of concerns with restrictive housing; 'restrictions on liberty, privacy, and communication. I should note there have been successful challenges in Federal Courts. I also feel it is important for those working in corrections to understand the constitutional amendments and how they apply to your position. Reference restrictive housing; the following amendments come into play: First Amendment, Fourth Amendment, Sixth Amendment, Eighth Amendment, and Fourteenth Amendment (sec 1). The Crime and Justice Institute (CRJ) conducted some research and provided a three page document looking at this issues. In the document, there is a good overview for amendments named and challenges for each.

Constitutional Implications of Restrictive Housing.

The next area pertains to the rights of persons confined. This was an informative short document identifying the Civil Rights of Institutionalized Persons Act (CRIP). There is additional information for the Violent Crime Control and Law Enforcement Act of 1994. (Department of Justice: Civil Rights of Institutionalized Persons)

I supplemented the previous article that also identifies specific rights. (Rights of Inmates-Civil Rights-Find Law)

The last area I selected is an interesting read for those working in the jails. The National Institute hosted a meeting among various jail personnel to look at the following areas: Mental Health Training, Criminal Justice Collaboration, Officer Wellness, Immigration Enforcement, Legal Issues, NIC Initiatives, and Association Updates. There are 39 pages of relevant and important information.

National Institute of Corrections: Proceedings of the Large Jail Network Meeting: September 2017.

Thank you for allowing me to share some information with you. Hopefully, you will find this beneficial and continue researching legal issues as well as other areas of interest. This is an excellent opportunity to improve your knowledge base.

Stay safe out there.
Terry

Terry Campbell is a criminal justice professor at Purdue University Global and has more than 20 years of experience in corrections and policing. He has served in various roles, including prison warden and parole administrator, for the Arkansas Department of Corrections. Terry may be reached at tcampbell@kaplan.edu.

Other articles by Campbell


---