The Great Dumpster Escapes
By Robert Kravitz, President AlturaSolutions
Published: 04/16/2018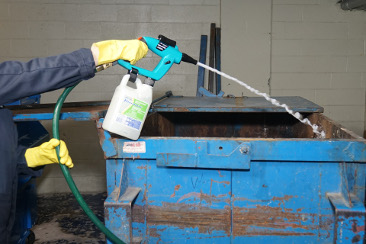 A prisoner, housed in a Philadelphia prison, must have figured he had come up with the perfect escape. He had access to the trash collection area where the facility's dumpsters are located. With a hop-skip-and-a-jump, he tossed himself into the dumpster. His plan was to stay inside the dumpster until the garbage trucks arrived, around 5:30 in the morning. Once in the truck, he would find a way to make his big escape.

He may have gotten the idea from another inmate, Jimmy Causey. About a dozen years ago, this South Carolina inmate hid in a maximum security prison dumpster, waiting patiently for the garbage collectors to arrive. Once in the truck and far from the walls of the prison, he made his escape.

Well, those may have been good ideas, but neither one succeeded. Causey did have a brush of freedom, but after a three-day manhunt, he was located and placed back in his cell.

Our Philadelphia prisoner didn't even get that. In fact, his escapade almost killed him. By the time police and firefighters realized he was in a garbage truck, it took them over two hours of pulling trash bags out, one by one, to free him. A video show's him moving one arm as he was lifted from the truck and rushed to a hospital. His condition was not reported.

Over the years, there have been other reports of prisoners diving into dumpsters to escape correctional facilities. All these prisoners share two things in common:
Their escape plot invariably failed
They subjected themselves to one of the foulest, unhealthy, and contaminant-ridden situations on earth.
Here's what's going on.

Even if trash is carefully bagged in trash liners, the liners acquire nicks, tears, and slashes while stored in the dumpster. Many trash liners contain "wet" trash, often liquids or food items, that become bacteria-ridden quickly. This moisture finds its way to the sides and bottom of the dumpster, where it becomes a perfect breeding ground for disease-causing bacteria, such as E. coli, Salmonella, Listeria, and more.

These are the "invisible," health-risking occupants in a dumpster. We can smell them, but we cannot see them. But most dumpsters also have "visible" health-risking occupants that spread disease. We're talking about flies, maggots, cockroaches, stinging insects, and let's not forget, mice and rats as well.

Before discussing what to do about this situation – and why we must do something about it – there is one more thing we need to mention. The bacteria, odors, insects, and rodents we just mentioned have a nasty way of spreading out, covering the entire trash collection area. This area is often referred to as the "dock."

Those damp and dark areas you may see on the floor of the dock are more often than not, bacteria-laden. And it is that bacteria that can be walked into a correctional facility on the bottoms of shoes. From here, it can spread inside the facility, where it is touched, spread to counters and touchable surfaces. Now cross-contamination can spread throughout the facility.

So, what can we do about this?

Often, correctional administrators call in a pest control company to apply pesticides – poisons – in and around dumpsters. Before we do this, let's see if we can thoroughly clean the area. This will remove the bacteria, and dumpsters may lose their appeal for insects and rodents.

Dumpster Cleaning

One option we have when it comes to cleaning dumpsters and the surrounding dock area is to hose down the area. This typically involves first cleaning the area and the dumpsters with powerful cleaning agents and brushes. Plan to climb in the dumpster in order to clean it. The floors may need to be cleaned using an automatic scrubber. This is because the darkened areas around the dumpsters contain grease and oil.

This process can work, but it is slow and messy. Plus, inhaling those chemical fumes certainly is not healthy.

According to Mike Watt, a cleaning expert with Avmor, a leading manufacturer of professional cleaning solutions, what correctional administrators should consider are microbial cleaning solutions.

Microbials are a form of bacteria, but interestingly, they digest other types of bacteria as well as grease, oil, fats, and organic waste. According to Watt, to take advantage of their cleaning power, we would do the following:
Using a hose connected to a specially designed dispensing system, apply the microbials to the work area.
Brush the dock area if necessary to loosen soil, oil, and grease; there should be no need to jump in the dumpster
Wait a few minutes. Allow the microbials to go to work. As they begin digesting germs and bacteria, they release enzymes that can be washed away with water, the final step in the process.
"This process may need to be repeated," says Watt, "but don't do that right away. The microbials continue to work for several hours after the cleaning, further digesting soils. Then you can judge if the process needs to be repeated."

According to Watt, correctional administrators should set up ongoing dumpster/dock cleaning programs to keep these areas continually clean. "Cleaning won's do much about convicts trying to escape in dumpsters, but if they do, at least they'll be in a healthier environment until caught."

Robert Kravitz is a frequent writer for the corrections industry.
---