Designing Their Future: Iranian Architect is Prison Computer Drafting Instructor
By Rachel Friederich, Washington Department of Corrections
Published: 05/07/2018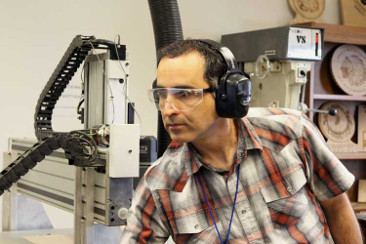 ABERDEEN—As a former architect, Farshid Mirzaei (pronounced FAR-sheed Meer-ZAY) designed houses, office buildings and managed architectural projects.

He never dreamed one day he would wind up in prison. And love it.

Mirzaei is the Technical Design and Computer Numeric control, CNC, Machine Technology instructor at Grays Harbor College at Stafford Creek Corrections Center, SCCC.

Mirzaei said he was "afraid at first," about taking the job because any prior knowledge he had about American prisons came from films like Escape From Alcatraz and The Rock, where the characters were involved in violent jailbreaks and hostage situations.

"After a few weeks, I started to know my students and how eager they are in learning, I found they are much more serious about learning and I found the difference between movies and real life."

About two dozen inmates are currently enrolled in Mirzaei's computer numerical design and technical design courses, which he teaches four days a week. Computer numerical control is a large part of computer-aided drafting and design, or CAD. It uses computer software to create 2-D and 3-D models of tangible objects such as bridges, buildings or mechanical parts.

From the East to the West

Mirzaei was born in the Kurdistan province of Iran. He attended the University of Tehran and earned a master's degree in architecture in 1997. He worked as a licensed architect for a few years after graduation. However, he felt there was something missing in his personal growth. He said much of the modern technologies used in construction, such as certain materials or software, were not used widely in Iran, making overall job growth slow.

Mirzaei decided to immigrate to Toronto, Canada in 2002 to enhance his technological skills and seek better work and life prospects. Additionally, he took a series of leadership and self-development training workshops through The Landmark Forum in Toronto so he could teach CAD outside of his regular work.

"I liked the creativity of design since childhood," Mirzaei said. "At the time, CAD was becoming more mainstream in the construction industry. I got to understand the program and how it makes everything faster and easier. I even started teaching part time outside my main job."

Mirzaei was the first in his family to immigrate to the western hemisphere. He said limitation to technologies and resources in Iran are some of the reasons he wanted to start a new life in the west.

"I purposely chose Canada because it was diverse," Mirzaei said. "I wanted to be around many cultures because that equates to learning more. I was exposed to the same way of thinking all my life and when I saw people who are completely opposite and had a different way of thinking, it helped me see the world way larger from different perspectives."

Changing Perspectives

A design firm in Los Angeles, Calif., invited Mirzaei to work on new technology related to aluminum building structures, computer-assisted drafting designs and 3-D detail modeling in 2006 He worked on architectural projects in southern California for the next couple of years

In 2009, the Great Recession eliminated most jobs in the construction industry, which also meant there was less work for architects. So Mirzaei turned to teaching jobs. One of those was a teaching job at the former McNeil Island Corrections Center, contracted through Pierce College. He taught technical design and CNC machine technology there until state budget cuts forced the closure of the McNeil Island prison in 2012. DOC officials made an agreement with Grays Harbor Community College to hold the classes at SCCC. Mirzaei became the instructor.

Though he was a little apprehensive at first, Mirzaei says he now gets more satisfaction working at a prison compared to all his previous jobs. He finds joy when he can help his students see world around them differently.

"I have witnessed the life change of inmates in a few sessions of basic courses of drafting," Mirzaei said. "It is where their perspective and way of thinking shifts. Engineering is based on facts, something that most inmates may have taken lightly in their past. Their reactions and judgments were based on emotion--that's how many of them got in prison. When inmates start getting familiar with how to approach a problem in engineering, they see something from different angles and it helps them rewire their thinking pattern in dealing with both models they make in class and how they interact with people."

Jay Pershing says he's an example of that. He was incarcerated for seven years at SCCC on identity theft charges. During that time, he learned how to use a computer numerical control machine through the prison's Correctional Industries inmate work development program.

That experience kindled an interest in drafting and design, so Pershing enrolled in Mirzaei's classes. He learned how to read shop drawings, basic drafting and technical design, and use CAD equipment and earned a technical design certificate.

Within a few months after his prison release in 2014, Pershing landed a job as a machinist at a CNC machining and fabrication company in Kirkland, Wash. Since then, he's promoted to the company's lead programmer and drafter. He says skills he learned in class and Mirzaei's encouragement helped motivate him to get where he is today.

"Farshid was great. He has this ability to push people to do better and at their own speed," Pershing said. "I truly can't describe how much this program and Correctional Industries changed my life. I now get paid very well and get to create cool stuff every day."

Job Outlook

Mirzaei says skills gained through his classes can open up doors to jobs in all types of industries. CAD is not limited to building construction. For example, CAD can be used to make airplane parts, or to create models of human body systems used by doctors and researchers to make advancements in the medical field. In recent years, CAD has also been used in the gaming industry to designs in augmented reality systems.

The Department of Corrections currently offers various computer-aided design courses at four of its prisons. In addition to SCCC, classes are offered at the Washington Corrections Center for Women in Gig Harbor, Wash., Coyote Ridge Corrections Center in Connell, Wash., and the state penitentiary in Walla Walla, Wash. Since 1997, inmates earned 753 certificates from these classes.

People who complete CAD courses have the potential to earn high wages. The median annual wage for machinists in 2016—the most current year of published data--was $41,700, according to the U.S. Bureau of Labor Statistics. Median annual wages for drafters were slightly higher, at $53,480.

The BLS projects employment for drafters to grow 7 percent through 2026 due to increased construction activity. Employment for machinists is expected to grow by only 1 percent during the same period, with most job openings resulting from retiring workers.

Mirzaei says one of the most satisfying things about being a prison teacher is seeing his students motivated to do well in life, when they may not have had any motivation before.

"Seeing their own achievement and seeing them grow is my own achievement."

Rachel Friederich is a Communications Consultant for the Washington State Department of Corrections. She earned her bachelor's degree in communications from Central Washington University. She has worked communications and public relations for various Washington non-profit organizations as well as a reporter at newspapers and radio stations across Washington including The Daily World, Yakima Herald-Republic, and KGY-AM in Olympia.
---