Sweet!
By Joe Bouchard
Published: 05/14/2018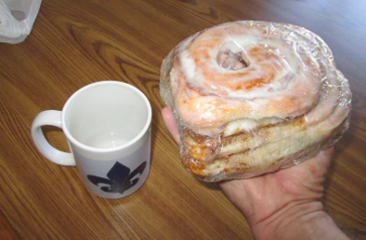 The following is an installment in "Icebreakers 101 - Volume IX: UNDAMMING THE ICE", a series featuring "Ice Breaker's" designed to promote training awareness and capabilities in the corrections industry.

Look at this sweet roll. Sweet! Definitely, it is sweet! And it is a bakery item that is not only tasty, but also huge. Is it the largest sweet roll on the planet? Perhaps not. But local business produces thousands of these tasty treats (meals, really) each year. The unusually large size draws the attention and the taste brings customers back.

This is an icebreaker that addresses communication and introduces the concept of contraband control.

Part one – How big is it?
Split class into 5 groups
Appoint a judge (judicious, impartial, impervious to the pressures of special interests. This person will optimally be the embodiment of the truth)
Display the sweet roll in its large and decadent glory
With a measuring tape and a mail scale, describe the actual dimensions of the sweet roll. It is not uncommon to purchase a two-pound sweet roll that measures 4 inches by 4 inches by six inches
Have each list three creative ways to describe how large the sweet roll is. I do not mean by measurement. That has already been done. The description should evoke an image of a colossal sweet roll.

Big as a baby's head
Can choke a t-rex
A delicious cannon ball

Judge decides on the most creative phrase
Sweet roll is given to winning team
Part two – Is it dangerous?

Have you ever heard of the file baked into a cake story? In old movies, a prisoner's loved one or devotee smuggles in a file to a lock up inside a cake. Staff let it through with no questions asked and the prisoner uses the file to escape.

Certainly, this is an outdated notion. We have metal detectors and do not permit visitors to bring baked good when visiting offenders. But, we suppose the ridiculous in order to walk around the idea of contraband control.
The facilitator mentions the cliché of a file baked into a cake
Teams are appointed
Teams record how and what can be smuggled inside a large sweet roll.
Teams report out
Salient suggestions are examined and counter measures for introduction of contraband are discussed. Facilitator can steer the class towards:
basic vigilance
policy directives
metal detectors
smell
weight
demeanor of visitor
This exercise is a great prelude to contraband control modules. It is also good to do this in anticipation of lunch. In sum, something can be pleasant and potentially dangerous at the same time. Bon appetite!

Joe Bouchard is a Librarian employed with the Michigan Department of Corrections and a collaborator with The International Association of Correctional Training Personnel (IACTP). He is also the author of "IACTP's Corrections Icebreakers: The Bouchard 101, 2014" and "Operation Icebreakers: Shooting for Excellence" among others. The installments in this series include his opinions. The agency for which he works is not in any way responsible for the content or accuracy of this material, and the views are those of the contributor and not necessarily those of the agency. While some material is influenced by other works, all of the icebreakers have been developed by Joe Bouchard.

Visit the Joe Bouchard page

Other articles by Bouchard:
---