Sweet! (Part Two)
By Joe Bouchard
Published: 05/28/2018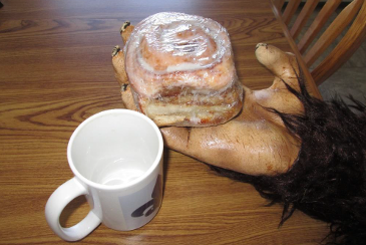 The following is an installment in "Icebreakers 101 - Volume IX: UNDAMMING THE ICE", a series featuring "Ice Breaker's" designed to promote training awareness and capabilities in the corrections industry.

Having just penned a two-part icebreaker about coffee, I feel the need to return to baked goods. And, why not? They are universal. However, this is an icebreaker about negativity, but it starts with an item that is generally received in a positive manner.

In the town in which I live is a restaurant called Hilltop and they are famous for their large sweet rolls. These are baked colossuses and are undeniably delicious. In my first run of this, I acquired two fresh rolls. They were bigger than a puppy curled up. In fact, even the mega-hominid - the legendary Sasquatch – would be sated by such a large treat!
The sweet rolls, of course, are the props and the conversation piece. They can be tied into any corrections lesson. In this proposed introduction. We focus on negativity. With the following premises:
Corrections, like it or not, is an inherently negative vocation;
For many, it is easier to say something negative than positive
After this introduction, facilitators announce that participants have one minute to write a complement about any topic they choose. For me, in the maiden voyage of this icebreaker, the Upper Peninsula was the topic. It did not matter if the participants had never been to the Upper Peninsula of Michigan. In fact, they only need to imagine or rely on what they had heard about the region. (please see below)
Participants will be instructed to, for the sake of fairness, keep personal identity information off the slip;
Sweet rolls are displayed and announced as incentive to write the best complement;
Two of the gathered complements will be selected as winners by an unbiased volunteer. Perhaps a sweet roll can be given to the judge right off the bat.
Alternately, the facilitator can judge.
Take note of any who believe their complement was better than others.
Take note if the person shares the mega-roll.
Report any interesting observations in the post mortem.
Granted, this is a very short icebreaker. But, the notion of using incentives (food as bait in this instance) is nothing new. This is a great segue into any module about emotional wellness.
---
On August 22, 2017 in Mount Pleasant, Michigan, this icebreaker was tested. The participants were about 20 committee members from the Employee Engagement Team. Seventy-five percent of those present were Lower Peninsula natives, but all had visited the Upper Peninsula. For those who may not know, the Upper Peninsula of Michigan is a large wooded area whose largest city has a population of a mere 25,000.

With a huge sweet roll at stake, these are the compliments harvested about the UP:
Space – no people for miles 😊 (possible bears)
Kind, rugged and welcoming. Generous and beautiful. Great pace
The Upper Peninsula is an area that is pristine and fresh
Gorgeous scenery
In Marquette people were diverse and friendly
It is a beautiful place set back in the '70's where people are friendly, drinks are cold, and you can disconnect easily because there is no cell service
The Upper Peninsula contains 20% of Michigan's land and about 80% of the beauty. Love it!
Prettiest and most unique landscape in all USA
A calming place – gorgeous sunsets, lakes and land – the other Michigan
The UP: It's beautiful! The lakes, rivers, falls – all of it. And the food!
The clear air and quiet instantly lowers stress and makes you smile
Scenic nature trails
When in doubt, UP it out!
Beautiful
And the compliment deemed as the winner by our judge – A surreal piece if heaven that offers all the beauties of nature and opportunity for peace found nowhere else.
Thank you, good colleague Dianne Koskinen, for the idea for this icebreaker.

Joe Bouchard is a Librarian employed with the Michigan Department of Corrections and a collaborator with The International Association of Correctional Training Personnel (IACTP). He is also the author of "IACTP's Corrections Icebreakers: The Bouchard 101, 2014" and "Operation Icebreakers: Shooting for Excellence" among others. The installments in this series include his opinions. The agency for which he works is not in any way responsible for the content or accuracy of this material, and the views are those of the contributor and not necessarily those of the agency. While some material is influenced by other works, all of the icebreakers have been developed by Joe Bouchard.

Visit the Joe Bouchard page

Other articles by Bouchard:
---