Putting the Breaks in Inmate Water Use
By Robert Kravitz, President AlturaSolutions
Published: 06/18/2018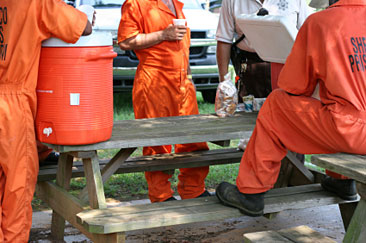 It is well-known that prisons cost a lot of money to operate. The average cost of confinement in the U.S., according to most estimates, is around $30,000 per year per inmate. And with an estimated 2.1 million people behind bars in the U.S., you can see just what a staggeringly high price tag this is.

Correctional facilities are essentially small cities. To operate them, along with food service for the inmates and staff, they must pay all the same utility bills that any city – and any resident in that city – would normally have to pay. And this includes water, which can also be a hefty expense for correctional facilities.

Now, you might think that those incarcerated would use less water than someone outside, making water consumption less of an issue. After all, they don't necessarily have to shower and shave every morning before going off to work, five days per week. Further, in some correctional locations around the country, inmates are only allowed three five-minute showers per week.

But the figures tell us a different story.

While the average person in society uses about 80 to 100 gallons of water per day, prisoners use anywhere from 120 to as much as 150 gallons of water per day. According to some correctional and water resource experts, the reason for this is very simple: they use a lot of water because they can.

In some cases, water is used as an anger release, designed to frustrate correctional administrators. Inmates jam things down toilets causing them to overflow. Sure enough, with repeated flushing, the toilet does flood the cell and soon starts overflowing into hallways. Eventually, water is running off the tiers in the facility, dripping down if not flooding areas below.

In most cases, the inmate that caused the problem as well as those impacted by the flooding, are released from their cells and go into a recreational area while cells, floors, and tiers are being cleaned. They get some time out of their cells – which inmates might view as a reward – and correctional administrators are left with the mess.

To address this situation and reduce water consumption and water waste, some correctional administrators are turning to new technologies, according to Klaus Reichardt, President, and Founder of Waterless Co., a manufacturer of no-water urinals and other restroom products. "New technologies are coming online that reduce the inmate's ability to abuse toilets, urinals, plumbing, and other water-using devices."

For instance, he is referring to systems now available that can monitor how often a toilet is being flushed. According to Reichardt, "a microchip sensor is installed behind a wall, where the inmate can't see it or at least get to it. If [the sensor] detects frequent flushing (which could cause a flood as described earlier), it locks the system, stopping the flushing."

This locking of the toilet may last for a few minutes or require correctional administrators to unlock the toilet so it can flush again. Either way, these systems typically tell administrators where the problem is and who the "bad actors" are that are causing it. Also, they help save water and eliminate water as an emotional release.

Other correctional locations are taking similar, but less high-tech routes, that are also helping them reduce water use, waste, and money. For instance, Florida's 900-bed Alachua County Jail, until recently, still had toilets that used 3.5 gallons of water per flush (GPF).

We should add here that these toilets were designed to use 3.5 GPF when installed. With age, use, and abuse, very often they are using more water than this.

These toilets were replaced with toilets that use only 1.6 GPF. Also, the correctional facility installed waterless urinals, which alone can save hundreds of thousands of gallons of water in a correctional location, replaced shower controls, and made water using fixtures throughout the complex more tamper-resistant.

The result: overall, Alachua County Jail has reduced water consumption by 62 percent. This means they went from consuming 36 million gallons of water per year to approximately 17 million gallons annually. That is a significant savings, not only in water consumption and water waste, but the costs for water as well.

We should add that visitor's centers in correctional facilities should not be overlooked when it comes to water use reductions. Installing 1.6 GPF toilets, waterless urinals, and low-flow fixtures can be installed in these areas as well.

More correctional facilities around the country will need to take steps to reduce water consumption in coming years, and along with it, water waste. Not only is water going to get more costly in years to come, we can expect water shortages to occur in more areas of the country in the future as well. Taking steps to reduce consumption now will help keep future costs in check, and help correctional administrators through future water shortages as well.

Robert Kravitz is a frequent writer for the corrections industry.
---