What Now After Solitary Confinement? Part 2
By Carl ToersBijns, former deputy warden, ASPC Eyman, Florence AZ
Published: 07/16/2018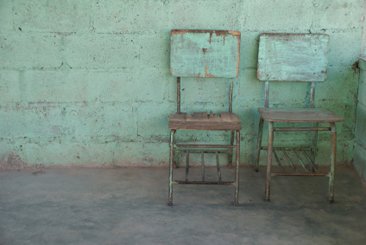 The following is the conclusion of a two part series

We have concluded that there are consistent patterns emerging from prisoners held in close proximity confinements. These patterns center or form around the aforementioned extreme anxiety, anger, hallucinations, mood swings and flatness, and loss of impulse control. In the absence of stimuli, prisoners may also become hypersensitive to any stimuli at all.

Often, they obsess uncontrollably as if their minds didn't belong to them, over tiny details or personal grievances. Panic attacks are routine, as is depression and loss of memory and cognitive function. Sadly, to a correctional employee, these are signs of a mental illness or psychosis and often referred to mental health for treatment resulting in them being isolated and housed in a psychiatric environment rather than a behavioral environment.

It is fair to say that many are not mentally ill but treated as such and often, whether mistakenly or not, they are put on suicide watches which often results in nearly half of the suicides coming from these isolated units.

When prisoners leave solitary confinement and re-enter the other world — something that often happens with no transition period — their symptoms might subside, but they're unable to adjust. Professor T. Kupers calls this the "decimation of life skills" and it "destroys one's capacity to relate socially, to work, to play, to hold a job or enjoy life."

You can see that even in a less restrictive area, these dynamic forces might impact the prisoner's adjustment abilities. It is important to address each and every one of these dynamics no matter how minor they may be.

As an administrator, I have had many disagreements on this adaptive method theory that solitary confinement drives people mad who are not already predisposed to mental illness. I have seen many who possessed behavioral and personality disorders do well after release because they didn't want to come back to the unit from where they are released. Hence, some administrators say that if you make their stay miserable, they won't want to come back. However that may play out in a case by case situation, I do agree that unless the person is allowed to transition, their failure to adjust rate may be higher than we choose to accept. This also includes the recidivism rates for those released from solitary confinement directly into the community.

I have witnessed men resist the destruction of solitary confinement for ten years or more by finding alternatives to focus on to keep their minds lucid and alert. Some gain the advantage by taking religion as a motivator; some get college degrees and others focus on legal principles that give them opportunities to communicate with others. In short, there is no one sure way or solution to prevent the deterioration of the body and mind if the prisoner himself or herself refuses to participate in the recuperation or the adaptation to new ideas and living conditions.

The exception may be the fact that the prisoner may have a predisposed or diagnosed mental illness. Therefore, in any release, mental health providers must be part of the release plan because, with adequate attention and treatment, they could have gotten better.

"Explaining why isolation is so damaging is complicated but can be distilled to basic human needs for social interaction and sensory stimulation, along with a lack of the social reinforcement that prevents everyday concerns from snowballing into psychoses," said Kupers.

Prisoners released from solitary confinement must be offered treatment services. They may vary on the degree of damage done by the condition but have no doubt, everyone is damaged to some degree – nobody is released as a whole body, mind or spirit.
The most basic damage incurred is likened to a post-traumatic stress disorder. The conditions are similar, and it's known from studies of soldiers that chronic, severe stress alters pathways in the brain.
It would benefit prison health administrators to scan or take efforts to conduct a brain imaging study of prisoners who are pending a release to the community or lower custody levels. The costs make this an impossible task to meet but the facts are that lacking brain scans, though, given the logistical difficulties of conducting them in high-security conditions, we would find out the negative impacts of solitary confinement through the evaluation of the brain images. Such studies are arguably not needed, as the symptoms of solitary confinement are so well-described but could add a degree of neurobiological specificity to the discussion.
One thing we all agree with: harming people physically is impermissible. We can't starve them through meals that barely meet the 2600 daily calorie intake, we can't confine them in a box where the climate control is eliminated or impaired and you either suffer from the heat in the summer and freeze them in the winter and we can't maim them by allowing them to inflict self-harm or harm by others including staff who see solitary confinement as a punishment tool.
Such arguments might still not be shared by people who believe offenders deserve their punishments, but there's also a practical argument. Solitary confinement is supposed to reduce prison violence, but some studies suggest that reducing its use — and so, it is happening sporadically in our prison systems.
Suggesting we reduce the use of solitary confinement we have to address the repercussion impact of the general release from solitary confinement or maximum-security control units and putting the prisoner in a new and different environment than before.

We admit that with less control, we depend on the prisoner's behavior more than before. Placing more responsibility on the offender does not relieve the custodian from any reasonable and legal liabilities. Inmate management is imperative and ultimately the responsibility of the custodian. Therefore, all tools must be utilized to get a positive result.

Before such a release is made, an individual treatment/housing plan must be executed beforehand to allow a transition of rules and living conditions, the interim time period can be as short as seven to fifteen days for those very well adjusted to as long as ninety days for those with a maladjusted history of compatibility with others and staff. The justification determines the means to allow the transition to be successful. A checklist in the offender's file is most helpful to track behaviors and special needs.

The main factor is the housing placement and whether or not, the released offender is put in a single cell, a double occupied cell or an open dormitory setting this is important. If someone spent six or ten years alone in a cell, space is exclusively theirs and nobody to share with.

This becomes a domain, a territory staked out as the owner and nobody has a right to trespass this property. Even the staff who enter the cell to search may be challenged at times, in other words, sharing becomes an important factor. Sharing space, food, entertainment, the toilet and the living area set up new rules where before there were no rules. It was all theirs. It belonged to one person and that was the person who lived inside that cell. There were no challenges of ownership or sharing.

Living with others invokes privacy concerns and sexual matters that are often clearly resolved from the beginning but something that may change over time. The sexual habits of one person are just as important as the nature of the crime that was committed by anyone put together inside a cell or dormitory. Sexual predators are vulnerable to attacks and should always be segregated from non-sexual offenders.

If someone who spent a long time in solitary confinement alone, they have formed strong cultural lines of conduct, moral expectations, respect and non-respect of certain cultures or ideologies and theologies. These factor in the compatibility of sharing space and time. In fact, it has been proven that murderers do time well and often without much difficulty once they adjust to the political atmosphere and cultures.

Matching disciplinary histories going back three to five years is a reasonable management and risk tool to prevent any unpredicted attacks in a shared compartment. Short tempered persons should not be matched with identical traits. Important issues to review are documented assaults on staff; assaults on another inmate; using or possession of weapons, manufacturing of weapons, possession of flammables, inciting riots or damage to property, etc.

Placing two sexual predators inside one cell or sharing a common dormitory is better than putting a non-sex offender with a sex offender. By mere culture and prison code, someone is bound to be attacked or harmed.

One may be disabled and immobilized and the other may be healthy and completely mobile and set up confrontations or dependability issues. One cannot depend on the other without giving ground on their rights to space, time and property. This can, in time become an issue for conflict.

Personal hygiene and sanitation issues are important for if you mix a slob with someone who is hygienically clean, you have an instant conflict inside the cell if doubled up or even in a dormitory where sloppiness may not be tolerated.

Keep in mind two things: a prisoner who is released from solitary confinement will be solitary in nature until he or she finds a comfort zone or level of compatibility with another person or the living arrangement. Secondly, there is a fundamental trust issue about their safety, health, property or even sleeping habits.

Expect the solitary confinement offender to sleep with one eye open for a very long time. Something they did even while locked up in a box by themselves. They trust no one; ask for nothing from anybody and basically, want to be left alone. Their sensory perception and sensory receptors are adjusting causing mood swings, sleep deprivation, confusion, and anger. There will still be a high sense of paranoia and the reality is still traumatizing to them. Keep in mind, the PTSD is 24 / 7.

Secondary factors after the releases are approved if their custody level is based on the most recent risk assessment and their activity rosters, medical needs, mental health status and educational opportunities or mandates. It is imperative that mental health takes a front seat in these reviews and assessments. Security can always determine a yes or no on the mental health evaluation or assessment.

Public risk does not take a back seat to institutional risk and caution has to be taken to not release them into a much more liberal milieu than they are able to handle. The backlash could be their behavior turns predatory in nature or they turn too submissive and become introverts to avoid the socialization process.

Movement is still controlled at close custody levels and offenders must earn the right to go to a lower custody setting. Behavior must be monitored; programming in identified classes or trades is mandatory and accountability must be maintained to avoid losing track of them once they are released into the general population.

The risk of defiance and entitlement is high for some who believe that were wrongfully placed at the most restrictive custody level, to begin with, and conflict with staff is inevitable if the rules are not explained or enforced. Attitudes must be checked and incentives to remain compliant are very important.

Although such a placement of someone who lived in a solitary confinement setting for so long might be considered to be a success, the repercussions of neglecting their special needs may cause them to end up back in maximum security or solitary confinement and begin the cycle all over again with perhaps even more management issues or problems.

Some who take the time to read this recommendation may find some of these issues to be minor or trivial in the matter. That may be true as we all experienced that 'bed space availability" drives most of the housing but it is best to know ahead of time, what you need to do in order to make the transition from solitary confinement or maximum-security aka "administrative segregation" to a lower more relaxed custody setting to avoid major issues.

Corrections.com author, Carl ToersBijns, (retired), has worked in corrections for over 25 yrs He held positions of a Correctional Officer I, II, III [Captain] Chief of Security Mental Health Treatment Center – Program Director – Associate Warden - Deputy Warden of Administration & Operations. Carl's prison philosophy is all about the safety of the public, staff and inmates, "I believe my strongest quality is that I create strategies that are practical, functional and cost effective."

Other articles by ToersBijns:
---