Time for Change
By Joe Bouchard
Published: 07/09/2018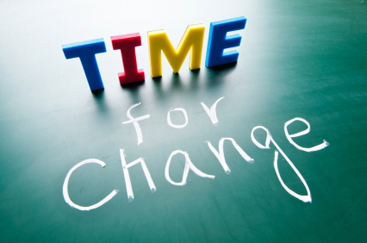 The following is an installment in "Icebreakers 101 - Volume IX: UNDAMMING THE ICE", a series featuring "Ice Breaker's" designed to promote training awareness and capabilities in the corrections industry.

It has been said many times in many different ways: nothing stays the same except that everything continues to change. Think of the changes in personal technology in the United States since the 1980's.

For example, in the 1980's, there were no small, smart cell phones. Mobile phones at that time were as big and heavy as a brick and just as dumb. Only a few people could afford them, so they were rare. One could basically make a call with the device and that was it. Incidentally, reception was dubious at best.

Today, smart phones are everywhere and capable of so many things. With smart phones, everyone has a calculator at hand. In fact, there is an application on how to figure out different percentages for the purpose of leaving a tip.

Let's reflect on changes from the simpler time of the 1980's by figuring out the amount of pocket change one would need in these simple math problems. Here are the rules:
Break the class into two teams.
Give one team 30 seconds to solve the story problem.
If the team is correct, they get one point.
If not, and the next team can solve the problem in 30 seconds, that team gets two points.
This is done in an old school manner - teams will neither use smart phones nor calculators. All must be done by hand.
Extra point is awarded if team can tell you the breakdown of change in actual coins.
You and your father enjoy breakfast at the Acropole restaurant. Since the year is 1986, your bill is $ 12.00. You wish to leave a 15 % tip. How much change is this?

($ 1.80 should be added to the bill. That is seven quarters and one nickel)

Your sister wants to see Duran Duran at Pine Knob and is five dollars short. She wants to borrow that amount from you. From another transaction, you already owe her $ 3.50. If you loan her the five dollars, who would owe the other what amount?

(She would owe you $ 1.50. That is six quarters)

Your 1980 Pontiac Phoenix needs gasoline. In fact, it is on fumes, as they say. Gas is $ 1.26. a gallon and you need to fill a 13-gallon tank. How much do you need to do this?

($ 16.38 will fill the tank. That is 64 quarters, one dime, one nickel, and three pennies.)

You and your date dine at Dimitri's Rendezvous. The bill for this excellent meal is $32.00. (Again, it is the '80's. Fine dining was less expensive than it is now.) You wish to appear 'classy' and will leave a 20 % tip. How much change does the tip require?

($6.40. That is 25 quarters, one dime and one nickel. Change at this point is not considered classy. You might want to leave bills rather than metal.)

Bonus question: If your dinner bill at Dimitri's Rendezvous is $32.00, how much is the total with a 20 % tip? Calculate the change, but never leave that much metal on a table if you can help it. It simply is not classy.

($38.40. That is 152 quarters, one dime and one nickel.)

Knowing about change in times and in operations is important for corrections staff. Ours is a routine vocation that is sometimes punctuated with the desperate need to quickly modify the way we do things. Also, with so many generations in the work place and as correctional clients, we need to be aware of our differences. Below is an article that can be distributed to the class to reinforce these concepts.


---
The Parable of the Forklift


There was once a high-low driver who enjoyed her job very much. She did her job well. On her forklift, she was an artist on the move. As she hauled heavy loads from tangled piles to precarious points, she and her high-low personified poetry in motion.

She manipulates the machine like a well-practiced violinist plays. The high-low was her instrument. Among her skills were her muscle memory and knowledge of the machine's capabilities. She knew its quirks and its power. Above all, she knew the layout of the shop floor. To say that she could navigate blindfolded on the shop floor was not an understatement.

Little did she know that the way she had operated for years was about the change. First, in an effort to economize, the layout of the shop was reconfigured. The routes on which she effortlessly maneuvered her forklift were in no way like they had been.

Also, the older but comfortable forklift was replaced by a smaller one. She was rendered completely ham-handed because the controls were different than her well-seasoned forklift. The play on the steering wheel and brake pedal were so different from what she was used to, she wondered if she would ever adjust.

In anticipation of change, she was given some new driver training. At first, she thought that this would be beneficial. After all, she had a new machine to acclimate to. But the trainer was unsure and gave contradicting orders while monitoring the practicum. She found that because of the tight controls and nervousness of the trainer, there was too much overcorrection as she drove.

In a word, the training was nerve-racking. She was, in effect, unlearning the finesse and pathways that she developed employed for nearly 2 decades. Matters were made worse by the many subsequent changes to the layout of shop floor. It seems that once the new configuration was in place, no one could go without suggesting a change.

She learned that the only constant in her work life was change itself. The anxiety of the ever-morphing paradigms and are continually retooled skills led into her life home. She became irritable and unpleasant, contrary to her vivacious and gregarious attitude.

One day, she was moving an expensive load. It seemed rather well-balanced on the skids. However, her feeling of equilibrium was displaced by the trainer who yelled instructions contrary to her movements. Because of an over-correction that she made, the high-low lurched. Four things happened:
The load fell to the cement floor, breaking all the specialized, expensive parts.
During a second of panic, she collided with a support column. The shoddy, little new forklift, far from being the heavy metal model that she was still used to, was now out of commission.
She fell during the collision and landed wrong. Trying to brace her fall, she broke her left wrist. Adding insult to this injury, her left hand was her dominant hand.
She felt that she was suddenly useless at something which she did so well for so many years.
The high-low driver was hit with many changes from the different angles. Her old, familiar fork lift - her critical tool - was replaced by something unfamiliar and of a light duty design. It is almost like when staff are thrown blind into a new computer system with no instruction. Her training was not comfortable. The map of the workplace was literally transformed into something alien – sometimes changed twice a week.

Of course, in uncertain economic times, change is more likely to occur. There's no question that this causes stress, especially in an anxiety prone vocation such as corrections. How do we lower the stress and increase safety in the meantime? Here are some things for all of us to reflect on during tumultuous times.
Immediate change may be necessary. But it takes time for prisoners and staff to absorb these changes.
Old habits die hard. Long-term, engraved task patterns are hard to undo.
Shortcuts can make long delays.
Patient and well-conceived training will go a long way in fostering the success of new changes.
Safety is always the most important component in corrections.
When suggestions for change are sought, some may forward ideas in order to make a mark on the process. The suggestion may be based on ego rather than the benefit of overall operations.
Anxiety is common in times of uncertainty. It is up to the individual to refrain from adding to it.
There were so many dimensions to change. In the end, we are all small parts to large, interconnected whole programs and safety machine. Change is not comfortable – but it is inevitable. Because of this, we must cope in the best way possible.

Joe Bouchard is a Librarian employed with the Michigan Department of Corrections and a collaborator with The International Association of Correctional Training Personnel (IACTP). He is also the author of "IACTP's Corrections Icebreakers: The Bouchard 101, 2014" and "Operation Icebreakers: Shooting for Excellence" among others. The installments in this series include his opinions. The agency for which he works is not in any way responsible for the content or accuracy of this material, and the views are those of the contributor and not necessarily those of the agency. While some material is influenced by other works, all of the icebreakers have been developed by Joe Bouchard.

Visit the Joe Bouchard page

Other articles by Bouchard:
---