Fatigue is Funny
By Corporal William Young
Published: 07/16/2018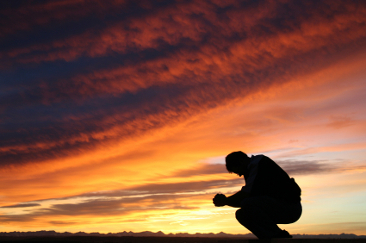 Corrections Fatigue is funny. It sneaks up on us like a copper stealing meth addict in the middle of the night. One minute we're fine (well, as fine as an institutionalized Correctional Officer can be) and the next minute we're hiding in a dark room crying our eyes out because of that stupid "Making Memories" Subaru car commercial where the dad is cleaning out the car and everything he finds in the car reminds him of some precious memory of his daughter and then his daughter gets in the Subaru and drives off into the sunset.

I think that a common misconception among Correctional staff, is that there has to some super violent traumatic event that takes place for the job, for this environment to change them. They assume that because they're not in a dark room crying over a stupid car commercial or drinking themselves to sleep every night that they are immune to the sickness that is Corrections Fatigue.

I was the same way. During my time as a Correctional Officer I have only been physically attacked twice, and on both occasions, I was able to walk away without any significant injury. So, those incidents did change me to a certain extent, but those changes were positive for the most part. Those situations helped me improve my situational awareness and heighten my threat perception. I also learned that I could and would defend myself in those type of encounters.

What changed me, what has had the most effect on me, has been the countless psychological attacks that I have endured throughout my career. The threats, the perception and possibility of violence, the kicking and the banging and the screaming and slamming and the lying and cheating have chipped away at my soul darkening my world view, changing the way I operate outside the walls.

This change didn't happen overnight. If it did, the root cause would have been easily identifiable and swiftly addressed. Unlike PTSD, Corrections Fatigue is the summation of several negative events and repeated failure to acknowledge minute changes in your daily routine or behavior. Yikes, that sounded a little to clinical. What I meant to say, is that all of the crap (both literal and figurative) that we deal with on a daily basis will take a toll on us over time. Failing to acknowledge or entertain the possibility that maybe we are experiencing side effects from our chosen career field can lead to long term psychological and physical health issues.

But it's just part of the job, right?

Sure. The kicking and the banging and the threats and the lying and the cheating and the blood and the long hours are all just "part of the job". You know what else is just "part of the job"? A higher divorce rate than the general public is just "part of the job". A higher suicide rate than the general public is just "part of the job". Diabetes, high blood pressure, and obesity, are also just "part of the job".

I have the distinct honor and incredible responsibility to teach "Corrections Fatigue to Fulfillment" to my fellow Officers at my facility. During one of my classes I had an Officer raise her hand and tell me that she felt like I was damaged and that she never wanted to be like me. I agreed. I told her that the very reason I teach this material is so that she doesn't become me. Fatigue is funny.

Don't our self-defense instructors teach us that at any moment we can be attacked? They tell us that we are going to get punched, kicked, head-butted, bitten, stabbed, and gassed. Not once during a self-defense training class have I ever heard an Officer ask an instructor why we are taught to defend ourselves. Not once have I ever heard an Officer minimize the concept of self-defense because they felt that the probability of being attacked is a lot lower than what the instructor makes it out to be. That has never happened because we understand that being attacked by an inmate is indeed a possibility and we want to be as prepared as we can be should we be attacked.

So what I'm doing, what I've been talking about and writing about is no different. But because we're big tough alpha-males and alpha-females we figure that this fatigue stuff isn't real. We assume that because we can still watch stupid Subaru commercials, we're fine.

I can tell you from experience that the opposite is true. See, prior to Corrections I worked at a Mortuary Transport company. My job was to pick up people that had passed, embalm them, and deliver them to a mortuary. The people that I picked up weren't always those that had passed away peacefully in their bed at home underneath their favorite comforter. Some of the people I picked up had been brutally murdered or had committed suicide. Sometimes I pulled people out their totaled automobile and sometimes I pulled them out of the river. I have picked up senior citizens that succumbed to cancer and I have picked up children that were bludgeoned by their mother's live-in boyfriend. I have seen the human body in various stages of decomposition and dismemberment and I can tell you that it bothered me less when I was in the thick of it then it does now.

When I saw death every day I never had time to process the aftermath of the horrific things that I saw. But now that I haven't handled human remains in over fifteen years I can promise you that the effects of that job have caught up to me. For example, if I were to call my wife on the phone and she didn't answer I would assume that something terrible had happened to her. My anxiety builds to the point of panic until she calls me back and I know that she is alright. This stems from me speaking to hundreds of people that would talk about not being able to get a hold of their loved ones only to find out that they were in an accident of that they had killed themselves or that they were murdered. See, root cause, I acknowledge it, and I deal with it.

I understand that the things that we do and see on a daily basis just seem like "part of the job" but I can assure you that at some point when you are removed from this environment, when you are alone with your thoughts, the demons will find you. They will find you whether you believe in them or not.

So, take the threat to your emotional and mental well-being seriously and arm yourself with knowledge and with understanding, so that when the demons come for you, you will be ready. Have a solid support system in place. Maintain connections with your friends and family and build healthy relationships with your fellow Officers.

Lastly, if you feel like you need to talk to somebody, then talk to somebody. Talk to people about the things that haunt you. Talk to a spouse or a friend or a co-worker or a counselor. The more you talk about your nightmares the less power they can have over you.

Why am I so passionate about this? Well, just like the gal said in my class, I'm damaged, and I don't ever want you to be like me.

Corporal William Young is a 13 year veteran of the Douglas County Department of Corrections in Omaha, Nebraska. Battling Fatigue himself, Officer Young is determined to assist his fellow brothers and sisters by helping them identify, manage, and reverse the damaging side effects and symptoms of working in such an environment. The agency for which he works is not in any way responsible for the content or accuracy of this material, and the views are those of the contributor and not necessarily those of the agency.
---