Store-o-pod: Part 1
By Joe Bouchard
Published: 07/23/2018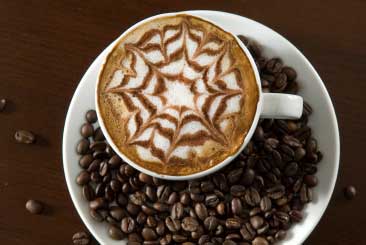 The following is an installment in "Icebreakers 101 - Volume IX: UNDAMMING THE ICE", a series featuring "Ice Breaker's" designed to promote training awareness and capabilities in the corrections industry.

Dear reader,

You get two for one with the "Store-o-pod" icebreaker. Here, I will touch on two topics in corrections with one of my favorite beverages. More specifically, "Store-o-pods" teaches about contraband control and is followed with a related article about staff relations. Coffee is the prop for this. First, we look at the contraband control aspect.

Coffee, if you have noticed, seems to be a recurring theme in my icebreakers. And why not? I absolutely love it. And it is a ubiquitous part of our culture. I reflect on this fact because I marvel at the availability of interesting new flavors. And coffee shops are everywhere. One need not be a coffee drinker in order to know of one.

At the risk of sounding ancient, the way coffee was made when I was younger is much different from how it is done today. (I hope that it is obvious that I am not talking about the good old days when people cooked coffee in a pot on a stove or over a camp fire. That method predated me.) As a child, I remember the percolator method. When I became a coffee drinker in my late teen years, the coffee machine was popular. In our house, we measured three scoops of the chosen coffee brand and brewed a 12-cup pot.

Years passed and my brother introduced me to the single serve coffee machine. At first, I scoffed. It smacked of elitism and it seemed too expensive. Having tried it, I realize that I am no longer throwing out coffee at the end of the day. Also, I have a wide variety of flavor choices with the single serve. The coffee is not scooped out into a basket. It is pre-made. A small pod made of light plastic is placed in the machine and one cup of specialized coffee is just one minute away.

This is a very simple icebreaker:
The instructor brings in coffee pods that are now popular with certain brands of coffee machines.
These are made of light plastic and covered light metal foil. In addition, there is a mesh lining that serves to keep the coffee grounds out of the coffee cup. Of course, the remaining element is the coffee.
Offer the premise that staff may use these small pods.
With that premise, conclude that prisoners could have access to these pods if staff are inattentive or distracted.
Ask the class what could be hidden in the small pods.
Ask the class what could be made from the pods.
Have teams write the answers to these questions and report out.
The winning team gets free coffee for the session.
Coffee! Is helps us work. It is a great part of socializing. It is a comfort. But could it be dangerous? It certainly could. It is not only a commodity of trade and can inspire fights and turf wars. In addition, the storage pods can hide small items and be made into tiny weapons or containers to store and throw potentially infectious materials.

Enjoy your coffee and be aware of the dangers of ingenious and applications of the pods.

Joe Bouchard is a Librarian employed with the Michigan Department of Corrections and a collaborator with The International Association of Correctional Training Personnel (IACTP). He is also the author of "IACTP's Corrections Icebreakers: The Bouchard 101, 2014" and "Operation Icebreakers: Shooting for Excellence" among others. The installments in this series include his opinions. The agency for which he works is not in any way responsible for the content or accuracy of this material, and the views are those of the contributor and not necessarily those of the agency. While some material is influenced by other works, all of the icebreakers have been developed by Joe Bouchard.

Visit the Joe Bouchard page

Other articles by Bouchard:
---