Lifesaver: Garden State Youth Correctional Officer Saves a Life, Attributes Actions to Optimism
By John Cokos, New Jersey Department of Corrections
Published: 07/23/2018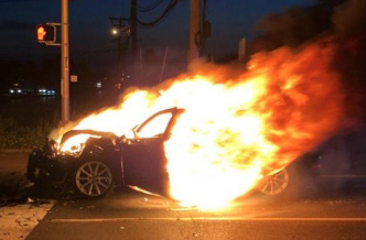 As he assessed the victim of an automobile accident on a warm Sunday evening in June, Senior Correctional Police Officer Donald Carson had one fleeting thought; "This is the real thing."

For as long as he's been employed by the New Jersey Department of Corrections, Carson has been trained to think under pressure. But this time, things were different. This time, all eyes were on him as he toiled amid an aggressively spreading fire and the smell of gasoline to pull an injured woman from the wreckage.

Carson had just finished a shift at Garden State Youth Correctional Facility and was on his way home when he noticed traffic slowing down ahead. As he closed in on the cause of the delay, he saw a woman, later identified as Catherine Bohar, slumped over the steering wheel of a badly damaged car with flames visible from the undercarriage.

"There were multiple cars driving past, but no one stopped," Carson said. "People were slowing down to look, but then just kept right on going. At that point, I realized if nothing happened, something bad was going to happen to her."

Carson immediately decided to get involved.

When Carson approached the burning vehicle, he identified himself and explained the situation to keep Bohar from panicking.

"The heat was intense, and all I could hear was the crackling and popping of the fire around me," Carson said. "I kept thinking of TV, where you see the fire and you see the liquid on the ground, and I realized this could go bad really fast."

According to Carson, Bohar was still barely conscious and suffered a compound fracture of her wrist. Although the front of the car was crushed causing the airbag to deploy, Carson was able to unbuckle the seatbelt and remove Bohar.

"In the [Correctional Staff] Training Academy, we learned how to carefully maneuver an unresponsive person, and it really helped here," Carson said. "I got her away from the vehicle and near my own vehicle and braced her against my leg. I also tried to keep her awake in case she suffered from smoke inhalation."

Carson, 33, realizes he could have been severely burned or killed if the timing had been even marginally different. In fact, two minutes after he pulled Bohar from the vehicle, it became completely engulfed in flames, closing the roadway for two hours.

Officer Carson has been nominated for the National Correctional Medal of Honor Award for his actions and will find out in August if he won.

So why does one person stop to help someone in distress while others do not?

"I am a positive guy," Carson said. "If you go on my social media, I'm posting positive things every day. I couldn't bear to read the news and find this woman had passed away if I actually could have done something."

Carson, who has been a Correctional Police Officer for a little more than a year, said his nature is to help people and feels he would have done the same thing even if he wasn't in law enforcement.

His positive attitude and helpful nature is deeply rooted. At a young age, Carson became a youth advocate and later worked in several halfway houses as a case manager. Even during training as a Correctional Police Officer, Carson found ways to motivate others.

"Don't give up on yourself," Carson would say to recruits who became discouraged during training. "Even if you don't stay in law enforcement or corrections, you're here right now, so let's make this work. We can see what we can do after this, but for now stay positive and put your foot in the door."

After saving Bohar, Carson was immediately flooded with messages calling him a hero, even from people he didn't know. He appreciated the kind words, especially from his own family, but said praise is not what motivates him.

"That could have been my mother, my aunt or my sister in the car," Carson said. "I would have been grateful if someone came along and handled it the same way."

John Cokos, a former Navy Mass Communication Specialist, began working for the New Jersey Department of Corrections' Office of Public Information in May 2018.
---