The Colossal Chocolate Complement Coin Conspiracy
By Joe Bouchard
Published: 08/06/2018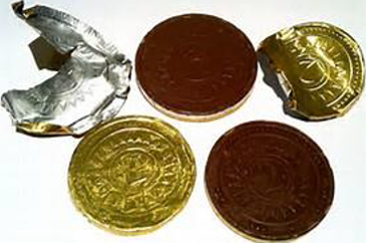 The following is an installment in "Icebreakers 101 - Volume IX: UNDAMMING THE ICE", a series featuring "Ice Breaker's" designed to promote training awareness and capabilities in the corrections industry.

In corrections, we perform jobs that many would never dare to do. The added element of working inside a prison is a dissuading factor for many. Even so, there are days which are extremely difficult even for seasoned corrections veterans.

Sometimes, a quirky, interesting gesture for a deserving colleague is in order. Recently, a committee group for on which I served offered a covert tribute to one of our own. This particular colleague described the process of answering less-than-supportive emails to angry inquisitors. We really saw how much she puts into her work endeavors. Her professionalism in the face of adverse words was astounding. It was evident that she is the epitome of engagement and is truly supportive.

Secrecy was the key. This was all arranged without the recipient knowing any of the details. Someone in our group outlined the following:
During the next meeting, each committee member was given a chocolate coin by a volunteer within the group.
Each person could, if they wish, write a tiny compliment on a sheet of paper that will be provided with the coin. One could write, for example, "Thank you for your energy and sense of humor."
In turn or as a group, participants walk up in orderly fashion and give the person a coin with the written compliment.
OR
A diversion or ruse can lure the target of the group's good wishes outside of the room. The person returns and sees a pile of chocolate coins with tiny compliments attached.
The coin idea mirrors the teamwork coin - like the coins distributed by some agencies. Those are wonderful, of course. However, we not all have access to these. In addition, chocolate has an advantage as a tasty treat. One simply cannot eat a metal coin, no matter how nicely decorated.
I know that everyone brings something special to the group. Still, I strongly believe that there is usually one outstanding person who deserves a quirky little surprise like this. It is quick, easy and will not detract from any meeting for more than a few minutes.

Some might wonder if this is a bona fide classroom exercise. I submit that it is because many elements of interaction are met:
Teamwork and coordination
Interpersonal dynamics
A benevolent conspiracy
Recognition of the good work of others
Thinking on one's feet when one considers the many variables in sheparding the 'target' from the room.
The long-lasting effects of a nice gesture and a friendly conspiracy are hard to estimate. This may be the well-deserved attention necessary to recharge a devoted colleague. In any event, there really are no losers when one considers the magical bonding of chocolate.

Joe Bouchard is a Librarian employed with the Michigan Department of Corrections and a collaborator with The International Association of Correctional Training Personnel (IACTP). He is also the author of "IACTP's Corrections Icebreakers: The Bouchard 101, 2014" and "Operation Icebreakers: Shooting for Excellence" among others. The installments in this series include his opinions. The agency for which he works is not in any way responsible for the content or accuracy of this material, and the views are those of the contributor and not necessarily those of the agency. While some material is influenced by other works, all of the icebreakers have been developed by Joe Bouchard.

Visit the Joe Bouchard page

Other articles by Bouchard:
---