'Untapped Potential' Revealed at Mates Inn Culinary Showcase
By John Cokos, New Jersey Department of Corrections
Published: 08/27/2018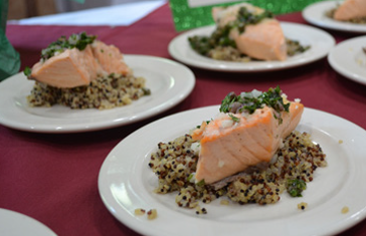 "Everybody loves to eat."

It's a simple yet undeniable truth spoken by Oliver Allen, a Mates Inn Culinary Arts student.

And everybody did eat when the New Jersey Department of Corrections invited community restaurant owners to a cooking exhibition at the Mates Inn for its first ever Taste of Success Hospitality Showcase in May.

Program Instructor Dora Dunn and her students, NJDOC inmates enrolled in the culinary arts program, created a menu of poached salmon, braised short ribs, grilled vegetables, homemade bread and an assortment of desserts.

Alan Meinster, owner of the popular Marsilio's Kitchen in Ewing Township and one of the guests at the showcase, was impressed.

"Everything about the event was enjoyable," Meinster said. "The menu was great, and the presentation was executed with skill and passion. It's enlightening to see the students applying what they've learned."

Since its inception in 1978, the Culinary Arts Program has evolved into a useful educational experience for offenders. The program coaches inmates on critical life skills and provides culinary instruction that prepares them for success in a multi-billion dollar industry.

According to Allen, attending the school and being a part of the restaurant has changed many of the inmates' mindsets. He added, their passion and emotion is evident in the food and service they deliver.

"I've learned to connect with so many different types of personalities here," said Allen, who is now a skilled maître d', server and baker. "The kitchen is a lot like a football team. Everyone has a position and must learn to work with each other to get the product out. In the front of the house the maître d' can set the mood. It's the first face customers see when they come in and the last they see on the way out."

According to Dunn, the program is not just about cooking. It can be life changing for some inmates because the work ethic and skills needed to succeed in the kitchen can be applied to life.

"I want students not only to be employable, but also to be able to woo a girlfriend or make pancakes for their children from scratch," Dunn said.

Program administrators want eligible inmates to have access to vocational programs within the NJDOC to promote self-discovery and encourage change.

"Sometimes a person just needs a little help looking inward to discover his or her untapped potential," said Dr. Darcella Sessomes, Assistant Commissioner of Programs and Community Services.

Such was the case with one particular inmate who arrived at the Mates Inn as a culinary student with Dunn.

"He told me he just wanted to be a janitor," Dunn said. "Then after a while, he quietly began asking me questions about how we make our Caesar dressing. Eventually, I asked him if he would like to try making it himself. With some work, he turned out to be an extremely talented pantry cook. Talented enough to work anywhere."

The U.S. Department of Justice asserts career readiness is a priority for reducing recidivism and improving public safety. The NJDOC Vocational Planning Board, which sponsored the event, helps with career readiness by providing vocational programs and connecting inmates with potential employers.

According to Sessomes, vocational programs give students a competitive edge and increase their marketability in the eyes of potential employers.

"The Department strives to continually develop innovative and creative vocational programs so offenders can better harness that untapped potential and manage the challenges of transitioning back into society," Sessomes said.

John Cokos, a former Navy Mass Communication Specialist, began working for the New Jersey Department of Corrections' Office of Public Information in May 2018.
---