Sexual Harassment in the Corrections Workplace
By Barbara Granner, National Commission on Correctional Health Care
Published: 08/20/2018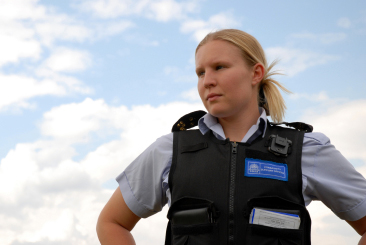 In today's #MeToo world, it's hard to believe that as recently as the 1960s, women were advised to quit their jobs if they couldn't handle the "inevitable" sexual advances that came their way at work. According to Allison Genberg, LCSW, CCHP, and Joel Federbush, MD, with Corizon Health, the term "sexual harassment" was not even coined until 1975. Genberg is health services administrator and Federbush is mental health director with the Passaic County (NJ) Jail.

During their presentation on the subject at the Correctional Mental Health Care Conference in July, Genberg and Federbush reported that anywhere between 40% and 70% of women have been harassed in the workplace.

The U.S. Equal Employment Opportunity Commission (EEOC) defines workplace sexual harassment as unwelcome advances or conduct of a sexual nature that unreasonably interferes with the performance of a person's job or creates an intimidating, hostile or offensive work environment. It can range from persistent offensive sexual jokes, gender-based slurs or intrusive questions to inappropriate and unwelcome touching or forced sexual contact.

There are two types of sexual harassment under the law, the speakers explained: 1) quid pro quo, in which a person in a position of authority, usually a supervisor, demands that a subordinate tolerates sexual harassment as a condition of getting or keeping a job or job benefit, including a promotions or raise; and 2) the hostile work environment, where conduct is unwelcome, based on sex and severe or pervasive enough to create an abusive or offensive working environment. While a pattern of behavior is typically required to establish that type of harassment, a single instance is sufficient to sustain a quid pro quo claim.

According to the EEOC, the law does not prohibit simple teasing, offhand comments or isolated incidents that are not very serious. Those circumstances reach the level of harassment when it becomes so frequent or severe that it creates a hostile or offensive work environment or when the situation directly effects someone's employment status.

As the speakers pointed out, however, harassment is "in the eye of the beholder." While a joke, comment or behavior may not be offensive to everyone in a particular group, if it offends even one person, then the behavior or conversation content needs to change.

Harassment in Corrections

According to the Marshall Project, women make up approximately 30% of the workforce in corrections, which is a uniquely challenging environment for female employees. Corrections officers and staff face the potential for harassment from both the inmate populations and from their coworkers.

When a facility does not make an active choice to have a "zero tolerance" policy toward harassment, female employees can feel unsafe and underappreciated in this sometimes treacherous, male-dominated work environment, Federbush said.

While some may argue that having women work in a male correctional facility invites inappropriate sexual behavior by the inmates, research has shown that employing women in this environment actually has a calming effect on facilities.

Why do some people harass? "Unfortunately not all people handle power with grace," explained Genberg. Sexual harassment is used to intimidate, disempower and discourage others. People sometimes feel the need to "protect their occupational territory" and if left unchecked by leaders, harassment can become a workplace norm. A chain of command with multiple levels of authority can increase the incidence of abuse.

What can you do?

The speakers suggest the following:

If you are a supervisor
Confirm that all of your staff are aware of current policies and procedures regarding sexual harassment.
Provide initial training on harassment prevention for new employees during new hire orientation and annual training on harassment prevention for all current staff.
Enforce facility dress codes with your staff.
Make certain that all staff know how to file a complaint if they feel they are being harassed at work.
Ensure that any staff member filing a complaint understands that you as a supervisor cannot promise complete confidentiality and that it will be maintained to the extent possible.
If you are harassed
It is helpful for the victim to inform the harasser directly that their conduct is unwelcome and must stop. While it may seem obvious to you that the person's actions are clearly offensive, making direct statements to the offender have been shown to be the most effective method for ending the behavior.
If you are uncomfortable speaking to the person directly, put your concerns in writing. Send a brief email from a company-issued email address. Keep a copy for future reference.
Set boundaries: Use "I" statements. Be clear about what makes you uncomfortable.
If there is no change in the behavior once you have taken steps to address it yourself, escalate the concerns to your direct supervisor and then to Human Resources. Be familiar with the suggested steps and chain of command within your company/agency and follow those steps.
Document all efforts taken. Keep notes of the exchanges you have with management about the harassment, and also keep a detailed account of the harassment itself, how it made you feel, how it affected your ability to work and any witnesses to the harassment that may exist.
Federal and state authorities are available to help. Bear in mind there is a 180-day time limit for filing an incident with the U.S. EEOC. You need to file your complaint with the U.S. EEOC within 180 days of the day of the harassment.
Finally, if you are worried your office behavior may be construed as harassment, then you probably need to change your behavior.

Barbara S. Granner is marketing and communications manager at the National Commission on Correctional Health Care. The National Conference on Correctional Health Care will be held Oct. 20-24 at the Paris Hotel in Las Vegas. For information go to www.ncchc.org.
---