Women in Corrections
By Terry Campbell, Professor, Purdue University Global
Published: 08/27/2018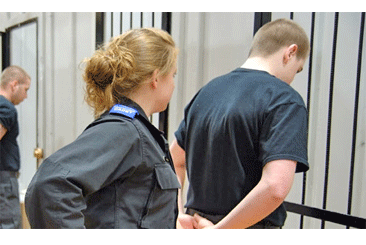 Our topic this month is Women in Corrections. Corrections, similar to other careers, faces a dilemma hiring qualified applicants, with turnover, and some resource concerns. Many correctional agencies have taken a proactive approach in hiring females. These agencies recognize the skill sets and attributes many females possess and bring to the workplace. These are certainly not limited to the following; 'collaboration, communication, skills with people, empathy, nurturing, and patient.' There are many positive examples for women working in corrections. This also reinforces why these women should be role models for others. Women also have proven they make good managers. Agencies can continue to improve upon training opportunities and support for all staff to advance.

While conducting some research, I came across the following research study: Women Professionals in Corrections: A Growing Asset. MTC. Published by MTC Institute, August 2008. Even though this is an older study, the information and findings were an excellent resource. I found the following statement interesting and wanted to share: "Every study ever done on this subject says that the introduction of women into male prisons has had an enormously positive effect on the socialization of the prisoners, on the incidence of violence in the prisons and not just violence against women, but against all staff."

Corrections has shifted their approach over the years from punishment to offender engagement and reentry strategies. Women are a good fit to assist with these changes. Again, there are many positive examples to support this. Many women bring to the workplace knowledge, skills, abilities, interpersonal communication skills, and leadership traits. These can be similar to their male counterparts. Yet, their communication skills come into play and ways they can defuse some incidents.

In a 2007 qualitative study, Kimberly Greer inter¬viewed 25 women in leadership positions and surveyed 180 members of Association of Women in Corrections (AWEC). "The study provided significant understanding of personal and professional issues women in criminal justice leadership positions face. Women in senior correctional leadership understand how important they are to other women in the profession. They also recognize that their actions, attitudes and willingness to collaborate lead to leadership styles that emphasize finding resolutions with less time wasted on competition. Power and status for women executives are not primary professional goals as they see themselves focused more on problem solving and achieving effective outcomes."

Many people in society still consider corrections to be a male dominated field. There are various female correctional organizations throughout the country. The message needs to be brought to the communities, corrections is not only a male career. Change is slow and we can take many proactive steps to ensure the message is delivered for female recruitment. We know along with change, the stereotypes and narrow visions exist. This reinforces why corrections can assist with the change cycle and get the message out. "Women professionals in corrections are a growing asset."

Some agencies are still hung up on change and not willing to take the next step. Why are some agencies still slow to hire and promote females? There continues to be some legal challenges by women in corrections, and some legal decisions have opened the doors further for women in corrections. Research supports the notion that correctional agencies should be exploring what can be done to:
Increase the number of women professionals entering their workplace.
Implement strategies designed to retain, train, and mentor women working in corrections.
We can also consider organizational change and identify areas where we can improve upon opportunities for women in corrections. There are many barriers in place and we must ensure all staff, regardless of gender, have the same opportunities and are treated fairly. Unfortunately, we still see examples where workplace harassment continues. Each employee has a responsibility to help control this. There is yearly training related to these areas, yet the violations still occur. There is a process in place for those individuals in violation of these policies be held accountable. Failure to do so means some administrators are part of the problem and failed to intervene and take corrective action. There is supposed to be one standard in place that is for all employees regardless of gender, not different standards for different employees. We have learned from many mistakes and, in most cases, taken proactive steps to correct for this. Our agencies need to be progressive and support the changes and not be part of the problem.

Stay safe out there.
Terry

Terry Campbell is a criminal justice professor at Purdue University Global and has more than 20 years of experience in corrections and policing. He has served in various roles, including prison warden and parole administrator, for the Arkansas Department of Corrections. Terry may be reached at tcampbell@purdueglobal.edu.

Other articles by Campbell


---