Mission Critical: NJDOC Critical Incident Negotiation Team Continuously Hones Its Skills
By Matt Schuman, New Jersey Department of Corrections
Published: 09/24/2018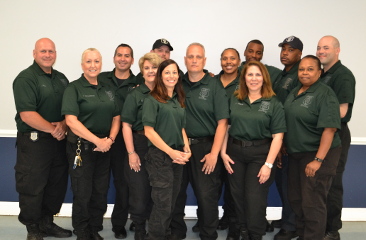 It was July 4 weekend when members of the New Jersey Department of Corrections' Critical Incident Negotiation Team (CINT) received word that an armed officer had barricaded himself in a threestory tower located on the grounds of a prison.

It was their job to find a way to peacefully end the crisis, which unfolded several years ago.

The first member of the team to arrive on the scene was a woman, but intelligence indicated that a relationship issue with a female led to the situation, so it would be best if a male served as the negotiator.

"We have to be able to provide whatever is needed," said Lt. Bertha Lowery, the team leader.

"In that instance, it was a holiday weekend, it was dark, and there were mosquitoes, cow chips and very little cover. So those who were part of the team were risking their lives just by being out there."

Undaunted, the CINT members went about their business.

"They were able to bring the individual's emotions to the point where he was able to be rational," said Lowery, who works at Albert C. Wagner Youth Correctional Facility.

The person in crisis surrendered, and there were no injuries.

CINT, whose formation dates back to 1999, consists of both custody and civilian NJDOC staff. The 17 team members, all of whom serve on a volunteer basis, have been trained by the FBI to carry out negotiations during critical incident situations. In addition, the group regularly gathers for daylong training sessions.

"We can be called out not only during a correctional crisis, but to give aid and assistance to a local police department that may not have a critical negotiation team, to the FBI or to other states," Lowery said. "When the hostage situation unfolded at the prison in Delaware a few years ago, every one of our team members had a backpack and was ready to go.

"What we do requires a significant commitment," she continued. "We have a special group of people."

Those who are interested in becoming a CINT volunteer go through a three-fold process that includes the submission of a resume, a psychological examination and an interview with team members.

"During the interview, I'll explain that each person needs to be able to perform every role on the team, from negotiating, to coaching the negotiator, to gathering intelligence about the person in crisis, to lending support in any way possible," said Senior Correctional Police Officer Traci Iwaszkiewicz of South Woods State Prison, one of just two remaining original members of CINT.

"I'll say that there might be a time when someone will say to you, 'We need you to get us cups of coffee.' If that's beneath you, then you might not be right for the team. There is no rank or title here. It truly is a team."

Added Lowery: "We don't necessarily need more people. What we need are qualified people. We're fortunate to have a very diverse group, but what matters most is that every single member of this team has been chosen because of his or her integrity and skill."

In a world in which increasing numbers of people are buckling under financial and emotional constraints, and active shooter incidents – in schools and elsewhere – seemingly occur on a weekly basis, CINT members believe the importance of their presence cannot be overstated.

Training exercises are held at all hours of the day or night, weekdays and weekends, and at various locations, including East Jersey State Prison, Garden State Youth Correctional Facility and the Custody Recruitment Unit. Another frequently used location is the Cassville Volunteer Fire Company in Jackson, where CINT member Vincent Tracy, an officer at East Jersey State Prison, has served as a longtime volunteer firefighter.

"The fire company allows us to use different parts of the building, so we're able to create all kinds of atmospheres and scenarios," Tracy said. "There are times when we have to filter out the noise from the firehouse, but that's actually a positive, because we have to be comfortable working around any elements or distractions we might encounter during a negotiation."

For example, during a recent outdoor scenario, it began to rain heavily. The exercise continued, since it was understood that the same thing could happen in the midst of an actual incident.

"We all carry a ready bag in our vehicle, because you never know where you'll be or what you'll be doing when the call comes," related Diane Patrick, supervisor of Educational Services at East Jersey State Prison and the only remaining original CINT member other than Iwaszkiewicz. "After we got caught in the downpour, we came to the realization that we need rain gear in our ready bag going forward."

On another occasion, a scenario was written entirely in Spanish, which normally wouldn't present a serious problem, since the team includes a bilingual negotiator. In this instance, however, the bilingual negotiator was cast as the designated "bad guy."

The team was forced to download a translator application from the internet to successfully complete the exercise.

"We need to be prepared for every possible eventuality," Patrick said. "Suppose this was an actual crisis, and our interpreter wasn't available?" Iwaszkiewicz is struck by the fact that each time she and her teammates gather, it proves to be a learning experience.

"For as long as I've been doing this, that's one thing that never changes," she said. "That's why you have to train on an ongoing basis. The more you practice, the more likely you are to be effective."

How effective? In the fall of 2017, the team placed first in the annual "Best of the Best" Critical Negotiation Team Competition, sponsored by the Somerset County Crisis Negotiation Team and the FBI Hostage Negotiation Team. A total of seven teams from across the state took part in the competition.

The NJDOC team also won the competition in 2015. However, the more recent first-place finish was particularly meaningful to team members on a personal level, since the trophy presented to the winner was named in memory of Major Edwin Rodriguez, the former CINT team leader. In anticipation of his retirement, Rodriguez bestowed the responsibilities of team leader to Lowery, then shockingly passed away just days later.

Lucy Rodriguez, the major's widow, was on hand to accept the trophy on behalf of the NJDOC. She was invited to the event by Senior Correctional Police Officer Joseph Giaimo, a CINT member based at Mountainview Youth Correctional Facility. "It was pretty emotional for me," Lucy Rodriguez admitted, "but it was a great thrill. I was so happy to see them win. They put so much effort into preparing, and it showed."

During the competition, each team is faced with the same scenarios. Evaluators, drawn from the sponsoring agencies, move from group to group and base their conclusions on predetermined criteria.

"They do a debrief after each scenario, then there's a final debrief at the end of the day," reported Sgt. David Kuperberg of Northern State Prison. "One comment that virtually every evaluator made was that our team was the tightest group, that everybody seamlessly worked together and that there were no egos. We discussed it later and agreed that it all comes from the level and intensity of our training."

According to Iwaszkiewicz, every member of the team feels the same way about training, and she thinks she knows why.

"We have a shared passion," she suggested. "We love to help. And, perhaps most importantly, we know we can make a difference."

Patrick wholeheartedly agreed.

"It's all voluntary, and we're not doing this in place of our regular duties, but in addition to our regular duties," she pointed out. "Yet it's because we do things the way we do that we're successful. We're ready any time, day or night, and I know I can depend on every individual here.

"This team," she concluded, "is the real deal."

Matt Schuman is a former newspaper reporter and editor who serves as the Public Information Office for the NJ Department of Corrections. He has been with NJDOC since 2000.
---