It's All Relative: Mid-State Correctional Facilitiy Harnesses Strength of Families to Help Treat Drug Addiction
By John Cokos, New Jersey Department of Corrections
Published: 10/01/2018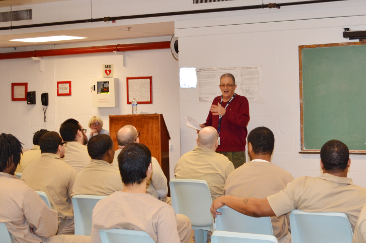 Timothy Bethea wakes up every morning hoping to be a better man than he was the previous day. He and his wife have been together for more than 20 years and have three children they both adore. Last year, Bethea had to say goodbye to his family to serve a prison sentence for drug- related offenses.

The 43-year-old from Asbury Park is now an inmate at Mid-State Correctional Facility. He admits that every day before his incarceration was a hustle – a hustle to provide a living for his family and a hustle to support his drug addiction.

His drug addiction, Bethea feels, is the one constant that landed him in prison three times before.

He is not alone. The perils of drug use are an ongoing problem in the United States, and opioid-related deaths have risen so quickly they have been declared a national emergency.

To help combat the problem, the New Jersey Department of Corrections (NJDOC) reopened Mid-State Correctional Facility in Wrightstown last year as a licensed, clinically driven drug treatment center for inmates. The facility offers Medication-Assisted Treatment (MAT), which is considered by the National Institute of Mental Health to be an essential element of long-term success. One unique facet of treatment available at Mid-State, often overlooked in the correctional setting, is family support.

Shortly after reopening the facility, the NJDOC, through its partnership with the Gateway Foundation, introduced an educational program known as Family Therapy, which integrates inmates' families into the drug treatment process.

"Families are a vital piece and you have to incorporate them if you don't want the [offender] to come back," said Christine C. Alfano, Substance Use Disorder Director for the Gateway Foundation.

During the program, family members of inmates enrolled in the class are invited to participate in a group setting where they all interact through education to heal. They listen to each other and begin to understand that other families have issues surrounding drug use similar to their own.

The comprehensive curriculum is comprised of four week-long sections identified as Triggers and Craving; Road Map to Recovery; Narcotics Anonymous, Alcoholics Anonymous and other support for the family; and understanding MAT.

According to Alfano, families are often unsympathetic to addiction issues because of the criminal aspect. Although inmates are eager to participate in Family Therapy, getting a commitment from the family is not always immediate.

"Family members are often still emotionally hurt, and some haven't seen the inmate in years, so they may be skeptical that change is even possible," added Jennifer Penninpede, NJDOC Program Development Specialist at Mid-State, "but feedback from families who have participated has been great so far."

During a recent family visit, Bethea recalled a life- changing moment.

"My daughter grabbed my face with both hands and said, 'Daddy, I want you home,'" Bethea recalled. "I think that moment is when it hit me, and my thinking began to change."

While Bethea's lifestyle at home was tumultuous, his wife rarely questioned his actions, because she didn't want him to leave. Although she was growing weary of her husband's troubled life, she listened when he asked for her support. Realizing this was the first time the primary focus of Bethea's incarceration would be treating his drug addiction, his wife was willing to participate with him in the facility's first Family Therapy class.

"This program helped me realize that I was like a cancer to her," Bethea said, "but it also helped her realize that by being indifferent to my behavior, she was enabling me. The best part about it, though, is I don't have to lie anymore. Our conversation is different. We're able to discuss things we were both afraid to in the past."

The program continues to evolve based on welcomed feedback from inmates and their families. Sections have been added and modified to maximize the program's efficacy. Additionally, inmates and their families are permitted to reenroll in the class to take advantage of new segments or simply as a refresher.

Lynda Coraluzzi, a counselor with the Gateway Foundation and Family Program facilitator at Mid- State, said families have to realize the process of treating a drug addiction can be complex and challenging for everyone involved, and that relapse is possible along the path to recovery.

"It is important to establish what the [inmates] and families are willing to help each other with from the beginning," Coraluzzi explained. "Then we can help families understand what the disease of addiction really is, how the animal works and that we can't just throw them away."

Family support, along with focused treatment, gives inmates a greater chance of overcoming their substance abuse.

"This is my fourth [prison sentence]," Bethea explained, "but it's the first time I have the right tools and support to change."

John Cokos, a former Navy Mass Communication Specialist, began working for the New Jersey Department of Corrections' Office of Public Information in May 2018.
---