Changes From Within
By Austin Paulino, Washington Department of Corrections
Published: 10/15/2018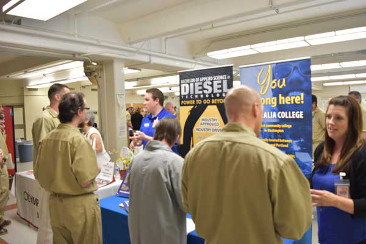 KING COUNTY, Wash. – When Franklyn Smith left prison in 2000, he was faced with the challenge of returning to the same neighborhood where he had committed his crime. He went back to the same group of friends and the same lifestyle that sent him to prison in the first place. Eventually, he committed another crime, and was sentenced back to prison. However, he decided this time would be different.

Smith didn't know it then, but after he completed his second prison sentence, he would return again – this time it wouldn't be for his incarceration, but to help others who faced similar challenges.

Smith is currently a community resource program manager with the Department of Corrections' Seattle Community Justice Center.

"When opportunity came," said Smith, "I had a few guys who told me 'if you don't take it, we won't talk to you anymore, because this is an opportunity that's bigger than you.'"

Smith's main duty is assisting the department in implementing new strategies to reduce recidivism rates within the state prisons.

Ending the Cycle

Although Smith spent nearly 20 years in and out of prison, he always made use of his time. While incarcerated at the former McNeil Island Corrections Center (MICC), he enrolled in programming for continued education and received a degree in business and accounting as well as a certification in supervisory management and leadership training. He also assisted in establishing additional beneficial programs.

"I did a lot of work in cultural programs," Smith said "From there it kind of changed my focus on corrections and what this was about. I give credit today and will always give credit to the officers that were at McNeil."

After releasing from McNeil Island, Smith faced hardships, including homelessness. Although he had a degree, his past criminal charges prevented him from being considered by potential employers. He didn't let that deter him.

"The year 2006 was when I finally thought, enough was enough," Smith said. "I wanted to do something different, so I met Doug Hiebert, a case manager through St. Vincent de Paul. Doug was a great mentor of mine and he had seen that I had a proficiency in helping people. He would recruit me to screen people before they would see him (at the emergency shelter), and that set up this path."

Smith eventually went into the transitional housing business with Change Is Recovery. Change Is Recovery was a transitional housing facility located in Seattle. Smith used management skills he learned from his business classes to connect clients with local community resources. His supervisors were so impressed with his work ethics they offered Smith a 13-unit building to transform into Sober Solutions, another larger transitional housing community in King County.

Change within the Incarcerated Population

In 2014, Department of Corrections Reentry Systems Administrator Jim Harms, was tasked to assemble a team to apply for a grant. The grant was defined as a cross-jurisdictional partnership between the department and King County. It would be used to identify and solve barriers or gaps in the current reentry process facing incarcerated individuals.

"We applied for and received the Second Chance grant with King County," Harms said. "Its purpose was to work with criminal justice agencies to cross-collaborate with their community partners and address barriers previously incarcerated men and women face that result in recidivism."

Harms asked Smith to participate on the team. Having gone through the reentry process multiple times, and showing excellent leadership and management skills within the community, program coordinators thought Smith was an obvious choice. A year later, the $1.5 million grant was approved. A 30-person team of community partners and formerly incarcerated individuals began meeting to advance goals outlined in the grant.

Smith says his life experiences had given him additional insight into how the incarcerated population can better integrate back into the community. He shares the Reentry Division's belief that "Reentry begins at reception."

Bridging the Gap

One discovered gap was that it was difficult to find and establish connections to community resources before leaving prison. To close the gap, the team focused on creating a variety of pre-release programs designed to help inmates begin connecting to community resources prior to their release dates. This would give individuals the option to create plans of their own and work on personal development.

Smith says one of the most effective ways to keep people from returning to prison is through peer and community-based organizations. Community-based programs allow members of the community to enter the facilities and teach individuals a multitude of subjects. Peer-based programs allow other incarcerated individuals to act as mentors to others within programs.

An example of a peer-based program is the Reentry Resources Workshop at Washington Corrections Center (WCC) and Monroe Correctional Complex (MCC). Smith facilitates the workshop at WCC in Shelton. It's offered to men who are less than 12 months from release. Participants receive assistance in planning for housing, education, employment and in understanding their court-ordered community supervision conditions.

Another program is the ReEntry And Community Health (REACH) program at MCC. The focus is to bridge pre- and post-release planning. Similar to the Reentry Resource Workshop, REACH focuses on helping secure basic necessities such as housing and education. REACH also implements career workshops and covers financial literacy topics such as planning for a source income and self-security. The career workshops bring community professionals within the institution to discuss future employment opportunities with soon-to-be released incarcerated individuals.

REACH offers peer leadership, something Smith expressed to be both valuable and still very new. Incarcerated peers are individuals who have graduated from specific programming, and allows them to teach and assist current participants. Smith explained that some of these peers are individuals who are serving long sentences and wanted to help people stop returning to prison.

"In those days when I came through (prison), for us to even have meetings with each other was frowned on," Smith said. "We weren't supposed to be helping each other study back then. I remember at different institutions, we (the peer group) would be shut down because it would be called an unauthorized gathering."

Smith says it's important for incarcerated individuals to begin preparing themselves for integrating back into society before they reach the prison gates. "If it wasn't for the time I took to prepare myself, I don't think I would've experienced the level of success that I'm having today."

Looking Toward Success

One previously incarcerated individual, Mr. Coe, says he's an example of the success one can have simply by participating in peer and-community-based reentry programs. He says Smith's programs helped him on his path to reentry.

While incarcerated, Coe completed a building maintenance program and expressed interest in the construction trade. After his release, Coe was accepted into the Seattle Vocational Institute (SVI) Pre-Apprenticeship Constructions Training Program (PACT). PACT is available for members of the public to apply for admission. The program offers training to individuals that can translate across multiple trade jobs. Some of these skills include the use of power tools, trades mathematics, and industrial safety.

"I see a more secure future that doesn't include jail or prison," Coe said. "The reentry team is helping me with my finances, and that is a big benefit and stress reliever. I now have a part-time job at UPS (United Parcel Service) and will hopefully be able to find work as a carpenter in a union, which will enable me to pay my own bills and possibly help others who need it. The reentry program is a great opportunity that makes a big difference in people's lives."

Austin Paulino is currently a correctional officer at Monroe Correctional Complex in Monroe, Washington. Paulino served as a summer intern while authoring the article. He is passionate about successful reentry for releasing incarcerated individuals.
---