Critical Incident Stress Debriefing: A Response to Susan Jones, PhD—Part 3
By Bruce Perham
Published: 10/22/2018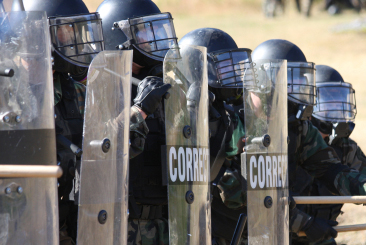 Continued from the September 2018 issue of the Correctional Oasis.

Susan Jones: "If the Mitchell Model is chosen as the method to continue to offer staff support, then the model should be followed. Making alterations to the debriefing protocols based on staffing limitations or on what feels comfortable is not recommended. The model defines attendance protocols, confidentiality protocols, time frames for implementation, and training for facilitators. These guidelines should not be ignored. What can be inferred by this research, however, is that individual contacts by people with whom the traumatized staff member has no existing relationships are not helpful. A peer support approach, staffed by familiar people, may in fact be more helpful for staff who are processing a tragedy. When using such an approach, staff members can reach out to this same peer support person later, if needed."

I agree with both of the points Susan is making here. Firstly, the Agency and their EAP provider must have an agreed upon philosophy and approach as to the need for CISD and when it is appropriate to use it. Health professionals who attend onsite CISD need to have the skills to assess the situation and provide the appropriate interventions required at the time, within the agreed service delivery methodology. This will not always be a facilitator the officers know, but it needs to be someone experienced in Corrections work who has a sense of what the officers are experiencing.

Secondly, what the officers shared in the group is very consistent with this comment, and the idea of "opening up to a stranger" was the most important reason why so few officers accessed EAP. This was further heightened when officers who did use EAP described it as not being helpful. The vast majority of communication about traumatic events clearly informally occurred amongst "trusted colleagues," not with Senior Officers, not with Peer Mentors, not with EAP counsellors, and not with CISD facilitators.

I would often think, "Thank God that officers at least have these trusted networks," as without them I think the psychological toll that comes with trauma would be a lot worse. There is an urgent need for Corrections Organisations, their Senior Leaders and EAP providers to come together to look at how a better support network could be provided to Correction Officers that builds on this deep connection they have with each other.

I included an excerpt from [my notes], which I think is very relevant here.

"At one point in the session an officer got quite irate and shared, 'I rang an EAP counsellor once and discussed an issue I had with my Senior. The next day my Senior hooked me in and said, 'Well, what's this all about?' The counsellor had breached my confidentiality. Knowing that would be a horrendous breach on the part of a counsellor, I challenged him on it stating, 'EAP has a strict protocol of confidentiality, and I have never known that to happen.' He stopped and said, 'You are right; it was the peer mentor.'"

My point here is that the role of peer mentor is more than being a good listener, and there is a high level of skill required, understanding the issues of confidentiality being one and the damage a breach can create. I have a strong belief that Counsellors can work very closely with peer mentors/counsellors and provide a cohesive service that provides a "friendly face," but links officers into professional counselling when they need it. I would be more than happy to pilot this in any prison in Australia!!

Susan Jones: "For now, there is no clear answer, so corrections leaders are left to determine the needs of their employees based upon their own judgement. The tried and true mechanics of leadership must be relied upon: know your staff, be accessible to all levels of employees, and provide a wide spectrum of resources, so that staff can access support when needed. Hopefully more clear and specific research will be able to confirm or refute the efficacy of the Mitchell Model, and provide a clear answer about what should be done after a critical incident."

I thank Susan Jones for raising the many issues that surround the delivery and the experience of CISD. The training I delivered to the prison officers in 2016 had quite a profound impact on me. I learned that prison work exposes Officers to a wide range of traumas and stressors, and many Officers pay a heavy price for that. I became brutally aware of the reality that as health professionals we do not understand, and we do not do enough to support officers doing this work. We need to be far more proactive in advocating on their behalf.

Research is not going to solve this dilemma alone. If Critical Incident Stress Debriefing is harmful rather than helpful, then we need to stop doing it and start doing something else. I believe what the Officers told me, that they have a need to talk and to express what they are going through. So many officers shared the pain of "going this alone," and what a lonely road it was, and how the impact spread to all areas of their lives. Before we move away from CISD (if it turns out that we need to do so due to research findings), we need to develop other ways of engaging Corrections Officers, as they need to be engaged, they need opportunities to talk about their work and what they experience in the performing of their duties. They need to process what they see. There is great scope for us to try new ways of doing things, and evaluate the effectiveness of these approaches, to ensure that they do benefit Corrections Officers, and do not harm them.

We need to broaden research to not just focus on specifics, on only one aspect of the issue. We need research to assist us to find more effective ways to support prison officers or any front-line responder post-critical event. If research is indicating an approach is harmful, then we need to do more research to confirm other ways of operating that are helpful. We need Correctional agencies EAP providers, health professionals and Corrections Officers to come together and chart a way forward to look for better ways to respond to these complex workplace issues. I am always keen to "pilot" what I do, and through participant evaluations, gather a sense of whether intervention was helpful or not. It is how we learn. It is vital that Corrections Officers are involved in this process for they know firsthand how critical incidents can shape their lives.

*I am going to close with another excerpt from [my notes], which was inspired by my discussions with the Correction Officers back in 2016. To me, this excerpt clearly states that we have to do something, but let's make sure that we do it right!

"As I sat with the Officers in the delivery of the 'Managing Stress and Dealing with Trauma' training, I came to understand how complex the role of a Corrections Officer was, and how stressed and traumatized many of the officers were. They felt a total lack of validation and awareness, inside and outside of the prison, for the work they did and the psychological toll it took on them and their families. It was near the end of the training where I was sitting with 15 officers in this dark, barren education room in the middle of this windswept prison, when one officer stated, 'No offence meant, but what is the point of this? We see people like you come and go and nothing ever changes, and no one really cares.'

As I looked around the room and sensed the despair, the almost overwhelming feelings of hopelessness, I was overcome by the awareness of how marginalized this group was. The realization hit me that this was the most marginalized group of individuals I had ever sat with in all of my working life and their despair touched me deeply. It was at that point that I decided that I had to take this somewhere. In whatever way I could, I had to give these Officers a voice, I had to do something. My flimsy response was I was going to collate what had come out of the training and provide a report back to Management. The Officer's cryptic response was, 'I won't hold my breath!'"

This article as been reprinted with permission from the September 2018 Issue of Correctional Oasis, a monthly e-publication of "Desert Waters Correctional Outreach".

Bruce Perham is an Australian Mental Health Social Worker, Family and Narrative Therapist who has specialized in working in the field of Chronic Health. Six years ago Bruce contracted to work with Optum, a large Employee Assistance Provider, and commenced offering onsite counselling work at a high security prison in Melbourne. That led to his developing the training program "Managing Stress and Dealing with Trauma" which he delivered to Prison Officers in Melbourne's four high security prisons in 2015 and 2016.
---