Does The US Have The Highest Rates For Violent Crime?
By Leonard A. Sipes, Jr.
Published: 11/12/2018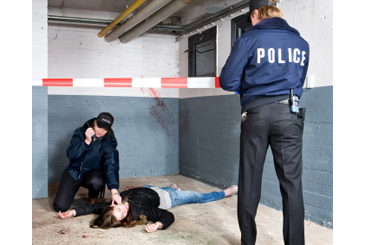 Introduction

A reader insists that the United States has the world's highest rates of crime and violence and takes me to task for not saying so. That's not surprising due to the incessant coverage of crime and mass shootings by local and national media.

There are many nations where the crime problem is much worse. One index states that the US is 45th for total crime.

American trust levels with law enforcement are high and that has an impact in two of the rankings below.

Role of Law Enforcement

Law enforcement plays a major role as to keeping us safe. Regardless of negative publicity directed towards policing, cops are one of the most trusted professions in America, Crime in America.

The United States ranks 35th out of 142 countries measured on Gallup's Law and Order Index as to perceptions of police and personal safety, (link below). In this case, a higher score means greater safety.

With favorable views of policing in both surveys, the majority of Americans seem willing to work with law enforcement to keep things relatively safe when comparing one country to another.

Fear of Crime

But the reader's concerns are understandable; there are crime concerns:

78 percent of Americans worry about crime and violence a great deal or a fair amount, the same as health care, the number one issue-Gallup.

56 percent of Americans believe that crime needs to be reduced-Pew.

68 percent of Americans believe that crime is increasing-Gallup.

Two-thirds of gun owners say protection from crime is a major reason they own a gun-Pew, Crime in America.

International Crime Rankings

There is no internationally recognized resource comparing one country to another, but there are reports that compare countries and cities.

One ranks the 50 most dangerous cities. Out of the 50, three are in the US with most being in Mexico, Central America, and South America, WorldAtlas.

There are similar results from Business Insider.

There is data showing that the US is forty-fifth for rates of total crime, Nation Master.

There are twelve nations with higher homicide rates, Nation Master.

The US is tenth for robberies, Nation Master.

In 2016, more than 250,000 people worldwide died as a result of firearms, and half of all of those deaths came from six nations, including the U.S., PBS News Hour reports. As to gun-related homicides, the U.S. ranks 30th worldwide. The US ranks 20th as to the rate of gun-related homicides.

World crime statistics and comparisons of jurisdictions in the US are available at Crime in America.

Conclusion

There are real concerns regarding violent and property crime in the United States with indications that growth during recent years may continue, Crime in America.

I wrote that crime will play a major role during the midterm elections, Crime in America.

Fear of crime seems to be increasing, Crime in America. Crime is a top concern.

But when you look at individual countries, the United States ranks 35th out of 142 countries measured on Gallup's Law and Order Index as to personal safety and perceptions of law enforcement, Crime in America. If you only included large, multicultural and multireligious societies, the United States would score much higher. The US had a score of 84. Singapore was highest with a score of 97. The lowest scoring countries include Mexico (score of 40), South Africa (score of 31) and Venezuela(score of 17).

I don't mean to downplay America's crime problem; we have real concerns in cities and states throughout the country. Being in the top fifty for most indexes is nothing to be proud of.

But the United States is not the world's most dangerous country.

Explosive crime growth in Mexico, Central, and South America is concerning because it's close to our borders, but there are indexes showing some European countries with higher rates of crime than the US.

So it's justified to be concerned with crime in America, but let's keep things in their proper perspective.

Reprinted with permission from http://www.crimeinamerica.net.

Contact us at crimeinamerica@gmail.com or for media on deadline, use leonardsipes@gmail.com.

Leonard A. Sipes, Jr has thirty-five years of experience supervising public affairs for national and state criminal justice agencies. He is the Former Senior Specialist for Crime Prevention for the Department of Justice's clearinghouse and the Former Director of Information Management for the National Crime Prevention Council. He has a Post Master's degree from Johns Hopkins University and is the author of the book "Success With the Media". He can be reached via email at leonardsipes@gmail.com.
---