The Heart of New Jersey: At the NJDOC, the Season for Giving Has Already Begun
By John Cokos, New Jersey Department of Corrections
Published: 11/12/2018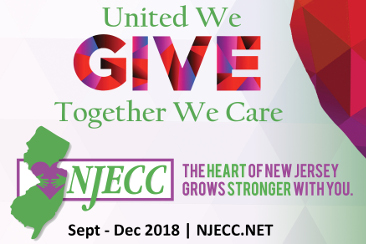 October [was] a busy month for Yvonne Jefferson, Personnel Records and Payroll Supervisor for the New Jersey Department of Corrections, and her staff. In addition to their regular duties, they organize[d] the annual benefits enrollment Health Fair and the New Jersey Employee Charitable Campaign (NJECC) events for the Department. New Jersey officially commenced the campaign on Sept., 13, at the New Jersey State Museum in Trenton. During the kickoff, NJDOC employees, as well as representatives from many other state agencies and charitable organizations, shared information with hopes of giving the campaign a robust start.

Throughout the campaign, which runs through December, state employees can select from a diverse list of local, national and international charities and donate money through small payroll deductions.

In her fifth year as the campaign coordinator, Jefferson is passionate about the campaign and about giving in general.

"Everyone's life has been touched by at least one of the organizations on the list," Jefferson said. "You may know someone who suffered from cancer, a mental illness, drug use disorder, or who was homeless. Now is the time to recognize this and give back."

Jefferson is confident the campaign is going to be even more successful than in previous years, noting the Department won a Growth in Giving Award last year.

NJDOC Chief of Staff Suzanne Lawrence, who is also passionate about giving back to the community, had similar feelings.

"Many of us are blessed to have these jobs in corrections, and in state service in general," Lawrence said. "So if we can give a little back from what we have been given, to people who are less fortunate, then I think that is an awesome opportunity."

There are many remarkable stories around why people give, Lawrence added.

"It usually starts with something that has happened in someone's life which helps them realize there is a need," Lawrence said.

For Lawrence, that something was the aftermath of Sept. 11, 2001, where she volunteered at Ground Zero.

"Think about the people who worked on the second shift," Lawrence began. "We considered them the lucky ones because they survived. But they suddenly had no income. The Salvation Army was there, writing checks to cover the cost of food and rent. They provided clothes and vouchers for temporary housing and kept clinical social workers on hand. They dealt with the tragedy in a global way, and that's why I give to them."

The Salvation Army is just one of more than 1,000 state-approved charitable organizations participating in the campaign. The organizations must meet strict guidelines maintained by the Employee Charitable Campaign Steering Committee to qualify. By law, the state can use only 10 percent of donations for administrative costs, then 90 percent goes directly to the charities.

"It's not necessary to make huge financial sacrifices," Jefferson said.

The idea behind small payroll deductions is to lessen the financial impact on the employee and maximize the number of donations.

"A gift of two dollars per pay period is 52 dollars a year," she added.

That number may seem insignificant Jefferson pointed out, but if even a quarter of the department gave this amount, the total would reach to more than $100,000, which is 10 percent of the state's $1 million campaign goal for this year.

Jared Maples, Director of the New Jersey Office of Homeland Security and Preparedness, was selected by Governor Phil Murphy to chair this year's charitable campaign. Maples was one of the guest speakers at the campaign's kickoff.

"I see hate every day in my current position, but I also see hope and love. That's is why I am personally passionate about this. It's very important to me as the Director of Homeland Security because we talk about things like resiliency, we talk about things like community relations, with law enforcement, with emergency responders, and efforts like [this campaign] are key to that."

NJECC offers the best opportunity to bolster our communities, according to Jefferson, who noted, "Better community, better city, better world."

John Cokos, a former Navy Mass Communication Specialist, began working for the New Jersey Department of Corrections' Office of Public Information in May 2018.
---