Dogged Officers: Canines Provide Professional Support, and Much More, to Their Partners
By Patrick Lombardi, New Jersey Department of Corrections
Published: 11/19/2018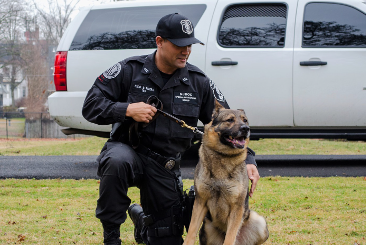 There's a reason dogs are called "man's best friend." Whether you received one as a puppy on Christmas morning, rescued one from a shelter or were assigned one to handle and train, the sense of companionship that forms between a person and a dog is imperishable.

The Canine Unit of the New Jersey Department of Corrections' Special Operations Group (SOG) facilitates that bond between each of its human and canine personnel and also recognizes it as a necessary connection in their line of work.

"The loyalty the dogs have for you is bar none," said Senior Correctional Police Officer Brian Lohr, who handles a Belgian shepherd, Bas, and a black Labrador retriever, Quaid. "You know them well and feel confident that they will have your back."

SOG's Canine Unit consists of 13 officers, one lieutenant and one sergeant. It trains its dogs to specialize in detecting explosives, contraband and narcotics, as well as finding missing persons.

"With all the modern detection technology we have today," said Lieutenant Frank Martin of the Canine Unit, "the technology is most effective when combined with the proven results of a trained canine team."

Martin has been with the NJDOC for more than 20 years and is currently the handler of an eight-year- old German shepherd named Rico. Each of the 13 officers in the Canine Unit has two work dogs, while the lieutenant and sergeant each have one. The dogs go home with the officers each night, deepening their bonds beyond just that of a dog and a handler.

Aaron Erven, who has been with the NJDOC since 1994, served as the Canine Unit supervisor before being promoted to director of the Office of Training in December 2016. He said the officers are accepting of the changes that need to be made in order to readily carry out their responsibilities.

"The officers' lifestyles have to adjust, because they are on call 24/7," said Erven.

As the officers and their dogs are on call 24 hours a day, seven days a week, Lohr maintains that the bond with work dogs can be deeper than one might have with a household pet.

"There's more of a connection with a work dog," said Lohr, who also has a four-year-old male German shepherd named Kano at home. "You do build a strong bond and connection with a house dog, but it's different with a work dog, because you are both going through the same struggles every day. Everyone meshes together, and you become a team. I think that's where that connection really comes through."

Most of Lohr's assignments with Bas are security tours at the correctional facilities. Bas searches for contraband, such as tobacco and cell phones. Quaid, a single-function dog, sniffs for narcotics.

"We use Quaid on visitors," Lohr stated. "We set up a screen before the visitors come in, and the dogs are taught to be able to smell any sort of narcotic odor on them or in their pockets."

Bas is the kind of dog "who is always ready to work," Lohr said. Though Quaid also is welltrained and a hard worker, Lohr said he is much more relaxed.

"Having one calm dog and one dog that is full of energy works really well," said Lohr. "It's a great balance."

Another officer in the Canine Unit, Senior Correctional Police Officer Brian Rivera, who has been with the NJDOC since 2000, has a similar kinship with his two work dogs, a two-year-old German shepherd named Chase and a three-yearold Belgian shepherd named Nemo. His dogs also have starkly different dispositions.

"Chase is like a young kid," said Rivera. "He's rambunctious. He wants to play all the time. But Nemo is very alert, very observant, and wants to do his job."

Chase performs narcotics searches in the facilities as well as on visitors and inmates. Nemo also performs narcotics searches as well as patrol duties, such as handler protection, tracking, and building and article searches.

The partnership between the officers and their dogs even affects aspects outside of their job duties. Lohr said being with the dogs has helped him stay calm and resist overanalyzing.

"The dogs live in the moment," he stated. "It kind of reminds you to not overthink things and just be simple — just focus on the present."

On their days off, Lohr will spend time with Bas and Quaid and throw a ball around with them.

"When they're off, I'm not really training them much," Lohr explained. "I like to let them rest, because it is their day off, but a lot of their skills are perishable, so you have to keep them sharp."

Lohr and Rivera both agree that they feel like parents when interacting with and caring for their dogs.

"It's like raising children," Rivera said. "You teach them about obedience and discipline. But they also like to have fun."

Neither Rivera nor the members of his family have had any problems adjusting to having the work dogs at home. The dogs are simply part of the family. These experiences have even interested Rivera's kids in becoming canine handlers when they grow up.

"On weekends, I let my dogs out to run around and get some exercise," said Rivera. "I'll throw a ball with Nemo and have my sons throw a ball with him, and I have my sons give him commands, too. They don't necessarily play with him, but it helps facilitate obedience."

Rivera, who has been with the NJDOC's Canine Unit for nearly a decade, plans to continue the rest of his career there.

"I absolutely want to stay with the Canine Unit until I retire," Rivera stated. "The work never stops, and it's nice to stay active. It's a learning experience, and I get to meet great people throughout the state. It has been really fun and exciting. The dogs always help improve everyone's mood."

Lohr has been serving with the unit for three years and doesn't see himself leaving anytime soon either.

"I plan to continue furthering my career with the Canine Unit," he said enthusiastically. "There's not one complaint. I absolutely love this job."

Patrick Lombardi had been a staff member of the New Jersey Department of Corrections' Public Information Office since September 2016.
---