The Color of Justice: Racial and Ethnic Disparity in State Prisons
By Terry Campbell, Professor, Purdue University Global
Published: 11/26/2018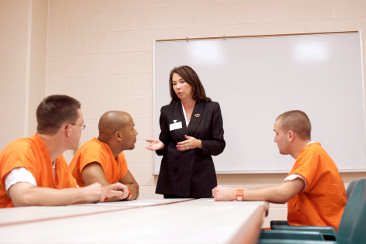 Our November topic is "Minority Issues." I conducted some additional research on this topic and came away with three very good articles. I strongly suggest you take time to review and then see if information contained in the articles coincides with your thoughts, or perhaps you may learn something new.
"The gap between the number of blacks and whites is shrinking" by John Bramlich. January 2018 [1]
"Correctional Populations in the United States, 2016," by Danielle Kaeble and Mary Cowhig. April 2018 [2]
"The Color of Justice: Racial and Ethnic Disparity in State Prisons," Ashley Nillis Ph.D.June 2016 [3]
Each article contained the addition of statistical data and overviews for each topic. The Bramlich article immediately provided the reader with the following information: "Racial and ethnic gaps shrink in U.S. prison population." The tables below, reflect the Black, White, and Hispanic race totals for the years 2009 and 2016.


| Race | 2009 | 2016 |
| --- | --- | --- |
| Black | 584,800 | 486,900 |
| White | 490,000 | 439,800 |
| Hispanic | 341,200 | 339,300 |


At the same time, the following data was interesting; 'In 2016, blacks represented 12% of the U.S. adult population but 33% of the sentenced prison population. Whites accounted for 64% of adults but 30% of prisoners. And while Hispanics represented 16% of the adult population, they accounted for 23% of inmates." These numbers place the incarceration rates in a clearer perspective. Now, when we look at racial differences in prison populations we find "in 2016, there were 1,608 black prisoners for every 100.000 black adults; more than five times the imprisonment rate for whites (274 per 100,000) and nearly double the rate for Hispanics (856 per 100,000). Again, this additional data supplements previous information. One of the next questions is what contributed to this? I will look at some areas after we look at some additional information.

I feel we also need to look at community supervision statistics for the same/similar time frames.

Characteristics of adults on probation 2000, 2015, and 2016 [4].


| Characteristic | 2000 | 2015 | 2016 |
| --- | --- | --- | --- |
| Race/Hispanic origin | 100% | 100% | 100% |
| White | 54 | 55 | 55 |
| Black/African American | 31 | 30 | 28 |
| Hispanic/Latino | 13 | 13 | 14 |


"The rate of adults under community supervision fell to 1,811 per 100,000 U.S. adult residents 2016. The rate of adults under community supervision declined from 1,872 offenders per 100,000 U.S. adult residents at year-end 2015 to 1,811 per 100,000 at year-end 2016.

The rate of adults on probation declined from 1,526 offenders per 100,000 U.S. adult residents at year-end 2015 to 1,467 at year-end 2016. The parole rate slightly decreased, from 350 offenders per 100,000 in 2015 to 349 per 100,000 in 2016."

The data presented can be located in the 'Probation and Parole in the United States, 2016,' dated April 2018. (25 pages). The additional information is suggested for your review.

The 'Color of Justice: Racial and Ethnic Disparity in State Prisons.' This document is very informative and provides a nice overview state by state. In addition, I suggest you take time to review the following areas: The Scale of Disparity, Drivers of Disparity, Recommendations for Reform, and

Conclusion.

I identified some reasons for the disparities from my research and own personal opinions. As you take time to review, see if these areas are in line with your own thoughts and your research conducted. I should note each of these areas alone is an article presentation you can easily write and submit for review.

Minority Issues
Prison gangs by race, violence, etc.
Programs available and any barriers (Language, design of program taking into consideration race and other minority issues).
Other language barriers associated with incarceration and community release. Are staff able to communicate effectively with the offenders?
Support groups and/or use of volunteers for respective races.
Social issues and how these affect inmates and those offenders on release.
Are health issues being addressed and programs available for medical, mental health, substance abuse, geriatrics, counselling, and other related areas?
Education level of offenders and education programs available to the population. Also, does this include books, supporting materials, communication, and other areas that adequately address language barriers.
Visitation: Does corrections staff look at offenders and know if the offender has visitors, no contact with the family, and other. Do the offenders have contact with their children? This includes checks to ensure the offender on release still has family/friends support.
Regardless of security level, are adequate programs available and challenges identifies?
Offender may come from a life of poverty and how are we dealing with this in our correctional systems.
What was the offender's work history (if any) and does the offender have any job skills?
Types of crimes and reasons for the crimes.
The legal system and prosecutor discretion.
Other
As you can see, I only identified some potential problem areas to consider for support and change. You probably noticed, many of these areas are also part of the classification process. Hopefully in the future, all areas can be addressed to help with recidivism and support concerns.

Thanks and stay safe out there.

[1] http://www.pewresearch.org/fact-tank/2018/01/12/shrinking-gap-between-number-of-blacks-and-whites-in-prison/
[2] https://www.bjs.gov/content/pub/pdf/cpus16.pdf
[3] https://www.sentencingproject.org/publications/color-of-justice-racial-and-ethnic-disparity-in-state-prisons/
[4] https://www.bjs.gov/content/pub/pdf/ppus16.pdf

Terry

Terry Campbell is a criminal justice professor at Purdue University Global and has more than 20 years of experience in corrections and policing. He has served in various roles, including prison warden and parole administrator, for the Arkansas Department of Corrections. Terry may be reached at tcampbell@purdueglobal.edu.

Other articles by Campbell


---