Juvenile Residential Facility Census, 2016: Selected Findings
By The Office of Juvenile Justice and Delinquency Prevention
Published: 02/18/2019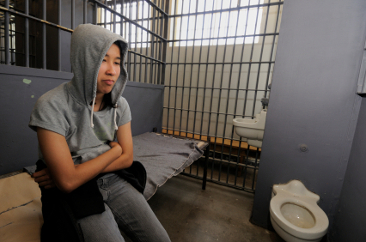 The following is an excerpt from the "Juvenile Justice Statistics: National Report Series Bulletin" issued by the Office of Juvenile Justice and Delinquency Prevention.

Highlights

Nationally, 45,567 juvenile offenders were held in 1,772 residential placement facilities on October 26, 2016. Facilities that hold juvenile offenders vary in their operation, type, size, confinement features, screening practices, and services provided. To better understand the characteristics of these facilities, the Office of Juvenile Justice and Delinquency Prevention sponsors the Juvenile Residential Facility Census (JRFC), a biennial survey of public and private juvenile residential facilities in every state. Findings in this bulletin are based on JRFC data collected for 2016.
More than half of all facilities were publicly operated in 2016; they held 71% of offenders.
Nearly 6 in 10 facilities (56%) were small (20 or fewer residents), but more than half (57%) of all offenders were held in medium-size facilities (holding 21–100 residents).
A small proportion (3%) of facilities operated over capacity in 2016; these facilities held 4% of all offenders.
About 9 in 10 facilities screened all youth for suicide risk and educational needs.
Six youth died in placement in 2016; one of these was ruled a suicide.
The Juvenile Residential Facility Census provides data on facility operations

Facility census describes 2,345 juvenile facilities

In October 2016, the Office of Juvenile Justice and Delinquency Prevention (OJJDP) administered the ninth Juvenile Residential Facility Census (JRFC). JRFC began in 2000 with data collections occurring every other year. JRFC routinely collects data on how facilities operate and the services they provide. It includes questions on facility ownership and operation, security, capacity and crowding, and injuries and deaths in custody. The census also collects supplementary information each year on specific services, such as mental and physical health, substance abuse, and education.

JRFC does not capture data on adult prisons or jails, nor does it include facilities used exclusively for mental health or substance abuse treatment or for dependent children. Thus, JRFC includes most, but not all, facilities that hold juvenile offenders (i.e., youth who were charged with or adjudicated for law violations). The reporting facilities may also hold adults or youth for nonoffense reasons (e.g., abuse/neglect, mental health/substance abuse problems), but data were included only if the facility held at least one juvenile offender on the census date.

In this bulletin, the term resident is used when discussing facility size or crowding, as these are characteristics related to all persons in the facility. The terms offender and/or youth are used when discussing all other information directly related to offenders who were younger than 21 on the census date.

The 2016 JRFC collected data from 2,345 juvenile facilities. Analyses in this bulletin were based only on data from facilities housing juvenile offenders on the census date (October 26, 2016); 1,772 facilities were included in the analyses. Excluded from the analyses were data from 1 facility in the Virgin Islands, 5 facilities in Puerto Rico, 14 tribal facilities, and 553 facilities that held no juvenile offenders on that date.

The 1,772 facilities housed a total of 45,567 juvenile offenders. This represents the fewest such youth in residential placement since the 1975 Children in Custody Census (the predecessor data collection to the JRFC and its companion collection, the Census of Juveniles in Residential Placement), which reported 48,043 offenders in juvenile facilities on the census date. From 1975 to 2000, the data collections recorded increasingly larger 1-day counts of juvenile offenders in public and private residential placement facilities. From 2000 to 2016, those increases were erased, resulting in the lowest census population recorded since 1975.

Local facilities were more numerous, but state facilities held nearly as many youth

Historically, local facilities (those staffed by county, city, or municipal employees) held fewer juvenile offenders than state facilities, even though they comprised more than half of all public facilities. In recent years, the gap narrowed and, in 2016, local facilities held more youth than state facilities.

In 2016, JRFC asked facilities if a for-profit agency owned and/or operated them. Of reporting facilities, only a small percentage said that these types of agencies owned (8%) or operated (8%) them. In both cases, these facilities tended to hold 100 or fewer residents and were most likely to classify themselves as residential treatment centers.

Click here to view the full report.
---