DISORDERLY CONDUCT: Off-Duty Correctional Police Officer Helps to Calm a Chaotic Situation
By Matt Schuman, New Jersey Department of Corrections
Published: 02/25/2019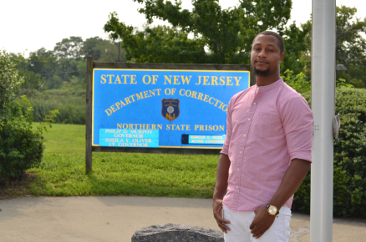 It was a warm summertime evening, and Senior Correctional Police Officer William Herring was on his way to work at Northern State Prison. While stopped at a gas station, Herring saw a pedestrian struck by a vehicle on Elizabeth Avenue in Newark.

The madness was just beginning to unfold.

The officer, a New Jersey Department of Corrections employee for almost four years, was prepared to help. Herring was on the phone with a police dispatcher and making his way to the accident scene when things began to deteriorate.

"I wanted to see if the accident victim was okay, but on my way over, I saw a bunch of people going after the driver of the vehicle," Herring related. "The driver appeared to be distraught because of the accident. Anyway, someone physically attacked the guy, so I immediately tried to break it up."

Unfortunately, the driver, a man who appeared to be in his 30s, had an entirely different idea of how to protect himself. His strategy involved a gun.

"I was literally three or four feet away from him when he started shooting," Herring said. "One of the shots struck his attacker in the chest area. Just as the shooter turned toward me, I identified myself as a law enforcement officer and told him to put down his weapon, which he did.

"When he put the gun down, he actually threw it into his car, so I took the keys from him and locked the car," he continued. "At that point, I said to him, 'I need you to lay on the ground.' At first, he resisted, but then he did what I asked. I had no handcuffs and no weapon, so the only thing I could use was my body weight. I just kept him on the ground and tried to calm him down as much as I could. As long as he was on the ground with me holding him down, he wasn't in a position to start shooting again, and he was as safe as possible, under the circumstances."

When the police arrived, they immediately placed the shooter in handcuffs and attempted to gather information on what had transpired. Herring called prison officials to report the incident.

"They told me to stay there for as long as I was needed," he said.

At long last, the situation appeared to be under control. Appearances, however, can be deceiving. "Once the guy was cuffed, things got crazy again," Herring recalled. "Everybody still wanted to attack him."

When Herring, a 28-year-old father of two, had an opportunity to reflect on what had transpired, he was admittedly stunned.

It wasn't until police placed the man in a squad car that the still-agitated crowd finally became calm and slowly dispersed.

"First of all, I couldn't believe the driver of the vehicle started shooting," he said. "Then, when I told him to put down the weapon, and he immediately complied, I was shocked. I also was relieved, because that definitely made things easier."

Herring attributed his actions to the training he – and all members of the NJDOC custody staff – has received from the Department.

"The first thing I realized is that this really is a 24-7 job," he stated. "Four years ago, before I worked for the Department of Corrections, it would have been a different, a lot different. If it wasn't for the training, I probably would have run, or I would have gotten shot.

"It was a difficult situation on several levels, but I'm glad I was able to help."

Matt Schuman is a former newspaper reporter and editor who serves as the Public Information Office for the NJ Department of Corrections. He has been with NJDOC since 2000.
---