A Matter of Trust: Offender Population Responding Positively To Peer Navigator Program
By Matt Schuman, New Jersey Department of Corrections
Published: 03/25/2019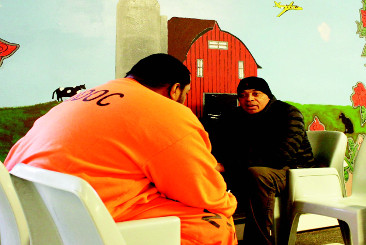 When a state-sentenced inmate is about to embark on the potentially overwhelming discharge planning and reentry process, it doesn't have to be a one-person journey.

Help, in the form of peer navigators, is available. Since the establishment of the program a little more than a year ago, peer navigators can begin meeting with an inmate six months prior to release and continue to provide assistance up to a year after the release date.

"Oftentimes, offenders, especially those who have burned bridges with their families, have little or no support, so the peer navigator becomes the primary support system," said Dr. Herbert Kaldany, director of mental health and addictions for the New Jersey Department of Corrections.

"To carry out their job responsibilities, peer navigators have been trained on what community services are available and how to make a connection for their clients to get access to those services," he continued. "A peer navigator can, in essence, tell the offender, 'Let's do this together.' To the offender, the importance of those words cannot be overstated."

The peer navigator program is a joint collaboration between the NJDOC, the Department of Mental Health and Addiction Services, and Rutgers University Behavioral Health Care (UBHC), which is contracted by the NJDOC to provide the peer navigators.

The program has been developed based on a research project done at the University of Pennsylvania called Critical Time Intervention, which analyzed how best to connect released offenders with community services.

Positions exist for as many as 30 peer navigators to provide assistance to up to 600 inmates – 200 who receive Medication Assisted Treatment (MAT) and another 400 who are not on MAT but who require substance use disorder services.

Significantly, when the program was still in the planning stage, Kaldany insisted that each peer navigator must be in recovery or must be a former inmate.

"We wanted them to have the experience of being in recovery or having been incarcerated so that they could relate to the clientele, which has that same background," he explained. "They are able to function as a model for current offenders, who can say, 'At one time, you were in my shoes, and you succeeded. Maybe I can succeed, too.' An offender may not be able to identify in the same way with a professional without that background."

Peer navigator James Ryals agreed.

"I have experience dealing with substance abuse and incarceration," he said. "I'm able to use that experience to help relate to people going through similar situations."

Added Adam Cortes, NJDOC supervising program development specialist, who works closely with peer navigators and their clients: "When someone can directly relate to you, the period it takes to develop a rapport and a level of trust tends to be much shorter. The peers are able to identify with an inmate's experiences, and the inmates respond to that."

According to Micah Hillis, UBHC program manager, peer navigators must have demonstrated sustained recovery and be at least five years removed from criminal involvement.

"There have been no negative issues to date among peer navigators," Hillis reported. "On the contrary, the individuals who have been hired are thriving in their roles."

By necessity, peer navigators receive extensive training.

"In the community, we have peer specialists, and we have navigators," said Kaldany, who meets with the peer navigators on a regular basis. "We wanted to get both sets of qualifications in one person. That way, one individual could have the shared experiences as well as the training."

In addition to their other duties, peer navigators are part of the inmate's Intensive Recovery Treatment Support (IRTS) team, which also includes a nurse, primary care provider and case manager, among others. Involvement with the IRTS team helps the peer navigator to create a wellness and recovery plan for each client.

"On the healthcare side, there are people who are familiar with creating a plan to treat an individual's illness or injury," Kaldany said. "The peer navigator is designing a wellness and recovery plan to prevent a problem from occurring or an addiction from flaring up. In other words, the goals are to avoid a new problem and keep an old problem from resurfacing."

The program has become so popular among the offender population that the JPay system has added a feature that specifically enables inmates to request peer navigator services.

"Whenever you're trying to engage the inmate population, credibility is a factor," Cortes said. "The inmates want to take advantage of the opportunity to receive help and guidance from individuals who can relate to their personal experiences."

Matt Schuman is a former newspaper reporter and editor who serves as the Public Information Office for the NJ Department of Corrections. He has been with NJDOC since 2000.
---