Always Faithful: Staff Supports Colleagues Deployed Overseas
By John Cokos, New Jersey Department of Corrections
Published: 06/10/2019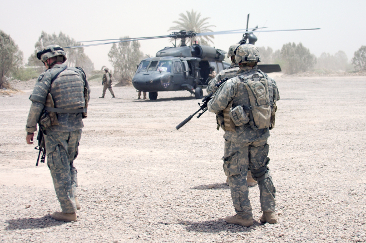 Improvise, adapt and overcome is a longtime mantra used by the United States Marine Corps, and in some variation or another, by all branches of the U.S. military as well as members of law enforcement.

At the New Jersey Department of Corrections, correctional police officers have designed a way to make following that mantra a little easier for their colleagues who also serve in various military reserve components.

Operation Blue for Green is an unofficial program and social media group through which NJDOC employees can help assemble and deliver care packages and letters to coworkers who have been deployed overseas.

"When people are deployed to locations thousands of miles away, dealing with unfavorable conditions, running out of toothpaste or wearing worn-out socks, receiving a care package is a reminder that they haven't been forgotten," said Senior Correctional Police Officer Charles Snider, who oversees collections at MidState Correctional Facility. "It makes them smile and keeps their spirits up."

The group came together after Senior Correctional Police Officer Derick DeLima of Mid-State Correctional Facility, who has been a driving force behind similar efforts in the past, was deployed himself.

Efforts to continue the tradition then resurfaced out of the Correctional Staff Training Academy (CSTA) and spread quickly. Since then, correctional police officers at nearly every facility have helped to keep that support structure active.

The group continuously collects items for care packages, and it organizes larger drives periodically to coincide with deployments.

So far, Operation Blue for Green has helped facilitate the delivery of more than a dozen large care packages, with several more on standby.

"The idea is to maintain a steady flow of items coming into the facilities so we can space shipments evenly," said Correctional Police Sergeant George Goldner, who coordinates the group's efforts at Garden State Youth Correctional Facility.

"We want people to continue to receive items throughout the entire deployment, not just at the beginning," added Senior Correctional Police Officer Matthew Kissane of the CSTA.

In addition to the support garnered at NJDOC facilities, the New Jersey State Policemen's Benevolent Association (PBA) Local 105 has contributed as well by covering shipping costs.

"It's personal to me, because I come from a long line of military veterans," said PBA Local 105 Executive Vice President William Sullivan. "The message we convey by sending care packages is not only significant to service members who are deployed but also to their families. It lets them know we are in it together."

As members of the NJDOC custody staff continue to serve and deploy overseas, Operation Blue for Green is designed to serve as a reminder that even though it's not always voiced, their service is valued and respected.

"When we're all together, it's easy to maintain the bond," said Snider, "but once people leave the building, it becomes harder. That's when our actions mean the most."

John Cokos, a former Navy Mass Communication Specialist, began working for the New Jersey Department of Corrections' Office of Public Information in May 2018.
---