Let's be Objective
By Joe Bouchard
Published: 07/01/2019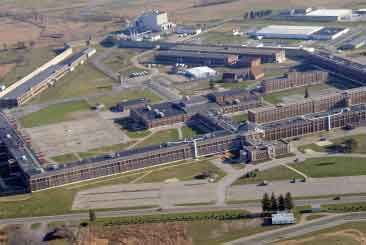 This is a series of new icebreakers from Joe Bouchard, a retired 25 year corrections veteran and corrections writer. He wrote these icebreakers for the International Association of Corrections Training Personnel (IACTP). These are a part of over 200 icebreakers Bouchard has written for IACTP since 2007. To learn more about IACTP, please visit www.iactp.org.

"Let's be objective - block Party" has it all: tactile tests, stand and deliver quizzes about group objectives, competition, and the possibility of a wooden tower falling apart. It also hints at the fragile nature of any entity in a growth process.

The game Jenga engages players of all ages. Players take turns to remove a block from a tower and balance it on top, creating a taller and increasingly unstable structure as the game progresses.

There are 54 blocks that are rectangular in shape. They are a few inches wide and made of wood. In playing this game, I have found that a spirit of friendly competition comes to the fore.

Another element of competition comes in the form of answering questions. In this case, the facilitator quizzes teams in term about group objectives.
Have about ten questions related to group objectives on hand. (Please see below) For example, the facilitator announces partners in a task - Contractor, Architect, Building supplies staff. The expected answer would be something like "Building a house".
Stack the blocks in three to a row with the widest part of the block in a horizontal orientation.
Next, stack the next three more on top of those perpendicularly. In other words, they must be staggered.
Continue staggering the rows and stack in this fashion until you run out of blocks. If you did this correctly, you should have a tower of blocks with eighteen rows and three to a row.
Have the first team answer a premade question about objectives. For example, the facilitator announces partners in a task - Contractor, Architect, Building supplies staff.
If the first team names the objective as building a house or something close, the other team must draw a block and place it on top of the precarious stack. If the first team fails to name the objective, someone from their team must remove a block from the tower and stack it on top.
As this continues, the tower gets more unstable and the tension builds. A toppled tower is the ultimate game stopper. It is interesting to see the interaction between teams as blocks are drawn.
Bring it home to the audience:
Display the mission statement of the agency or organization.
Discuss the tasks and objectives in your organization.
Lead a talk about the interconnectivity of these objectives
Task 1 – Make bed
Task 2 – Exchange dirty towels for clean
Task 3 – Vacuum carpet
Objective? – Cleaning a hotel room
Task 1 – Press icon
Task 2 – Check and possibly change status
Task 3 – "Like" something posted by a friend or relative
Objective? – Communicating on social media
Task 1 – Paint the walls
Task 2 – Apply decorations in primary colors
Task 3 – Install the crib
Objective? – Preparing a nursery
Task 1 – Park in spaces on the street that others prefer
Task 2 – Leave your trash cans at the curb all week
Task 3 –Insult your neighbor in front of many witnesses
Objective? – Becoming the neighbor from hell
Task 1 – Look out back window
Task 2 – Check mirrors
Task 3 – Shift car in reverse and press accelerator lightly
Objective? – Backing up a vehicle
Task 1 – Press the on button or tap any key
Task 2 – Type username and place cursor in password box
Task 3 – Type password and press enter button
Objective? – Logging in to your computer
Task 1 – Place thimbleberry jam, Trenary Toast, a Hilltop Sweet roll in a bag
Task 2 – Add brochures from local tourist attractions and a pasty cookbook
Task 3 – Add mosquito repellant (bug dope) and a waterfalls guide for the area
Objective? – Making a Yooper gift bag
Note: A Yooper is a resident of the Upper Peninsula of Michigan.
Task 1 – Place coin in slot or apply credit
Task 2 – Pull handle towards you or press play button
Task 3 – Pray, stare, cast incantations, face north, tug on your lucky shirt or invoke any benevolent wood spirit through knocking
Objective? – playing a slot machine
Task 1 – Slide out tray
Task 2 – Pull debris from the area
Task 3 – Discard, as it is flammable and dirty
Objective? – Removing lint from a clothes dryer
Task 1 –Review literature on topic
Task 2 – Discover and apply objectives of training
Task 3 – Create related game with audience, time limits and objectives in mind
Objective? – Producing an icebreaker or classroom exercise
Joe Bouchard is a retired corrections veteran and writer with 25 years of experience. At the time of his retirement, he was employed as a librarian by the Michigan Department of Corrections and was collaborator with The International Association of Correctional Training Personnel (IACTP). He is also the author of "IACTP's Corrections Icebreakers: The Bouchard 101, 2014" and "Operation Icebreakers: Shooting for Excellence" among others. The installments in this series include his opinions. While some material is influenced by other works, all of the icebreakers have been developed by Joe Bouchard.
---