You Think That's Funny?
By Joe Bouchard
Published: 08/05/2019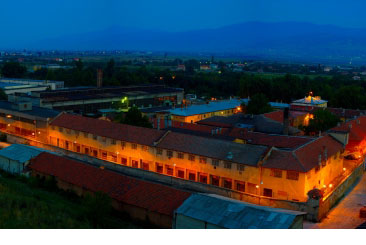 This is a series of new icebreakers from Joe Bouchard, a retired 25 year corrections veteran and corrections writer. He wrote these icebreakers for the International Association of Corrections Training Personnel (IACTP). These are a part of over 200 icebreakers Bouchard has written for IACTP since 2007. To learn more about IACTP, please visit www.iactp.org.

Recently, Keweenaw Bay Ojibwa Community College colleague Denise Cadeau and I wrote and presented "Balance and Humor". Some of the elements of this training were:
Looking at balance as taught in various philosophies including the Indigenous Medicine Wheel;
Problems caused by being unbalanced;
Strategies to incorporate humor into the workplace in a manner that is light, yet not obnoxious;
Benefits of incorporating humor into the workplace. We had an icebreaker in place to address the concept of balance. In fact, it was based on an icebreaker that I wrote in 2017 for IACTP called "Hello, My Name is Problem". Still, we lacked an icebreaker that addressed humor.
We realized that humor is subjective. Also, we needed to take ourselves out of the equation to a degree. This was done in a few steps:
With a mass email or some other communications mechanism, give the very broad instruction, "For training on such and such a date, please bring in something that you think is funny."
When colleagues ask for more specifics, it is best to simply repeat "bring in something that you think is funny." The fewer restrictions, the more creativity may flow from the participants.
On training day, instruct participants to place their funny item on a table at the front of the room.
Note that the item may not necessarily be something tangible. It could be a story.
Select a judge (with the integrity of Judge Judy, Judge Ito and King Solomon) to decide which of those items she or he finds most funny. The judge should be given a small gift from the facilitators when accepting the weighty responsibility of selecting the funniest item.
Announce that there is a prize to the person who brought in the item that the Judge deemed funniest.
In turn, people come up to the table that holds the funny items. They pick up or describe their item.
Once the participant describes the item and why they consider it funny, they "pick" a volunteer.
Participants do this until all have had their say about their selected item.
The Judge announces which item is the winner.
The facilitator awards a prize. I have found in an irreverent exercise like this that it is fitting to give a prize bag with gag gifts. Prizes of this level generally match the levity of the exercise.
If you are of an overly dignified composition or abhor scatology, be careful when you play this game. There may be some entries that make you blush.
In its original run, "You Think That's Funny?" introduced such items as a knitted Hannibal Lector doll and the cow bell and the Saturday Night Live video about Blue Oyster Cult mocumentary and the making of "Don't Fear the Reaper." Someone even threatened to bring in a mirror and show it to my face. (You see, humor is subjective.)

The winner came in a three-inch cylinder, not much larger than a half roll of quarters. Inside was a miniature, wooden stool. The label on the container was "Stool Sample."

Joe Bouchard is a retired corrections veteran and writer with 25 years of experience. At the time of his retirement, he was employed as a librarian by the Michigan Department of Corrections and was collaborator with The International Association of Correctional Training Personnel (IACTP). He is also the author of "IACTP's Corrections Icebreakers: The Bouchard 101, 2014" and "Operation Icebreakers: Shooting for Excellence" among others. The installments in this series include his opinions. While some material is influenced by other works, all of the icebreakers have been developed by Joe Bouchard.
---