Down To Business: Women at Edna Mahan Attend Career Day
By Matthew Schuman, New Jersey Department of Corrections
Published: 08/26/2019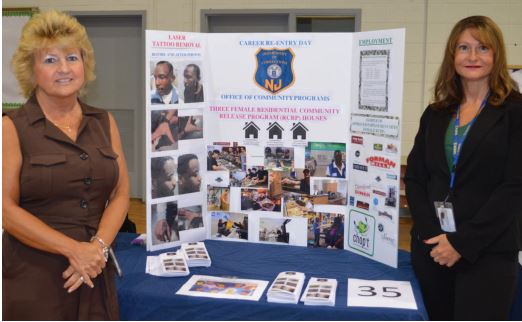 Amazon hasn't forgotten about the women who comprise the offender population at Edna Mahan Correctional Facility for Women. Neither has Macy's. In fact, none of the dozens of businesses and agencies from across the community who were represented at Career Day, held June 13 at Edna Mahan, have forgotten about the women housed in the Clinton facility.

"I'm extremely proud that so many companies and community partners came to the prison, experienced the event for themselves and are willing to o" er the women potential opportunities once they're ready to leave," said Dr. Darcella Sessomes, New Jersey Department of Corrections (NJDOC) Assistant Commissioner for Programs and Community Services.

"It's so encouraging to know the event was as impactful as it was," she continued. "The women were able to walk away feeling that they had valuable information about services available in the community and to know which companies may be willing to take a chance on hiring them. Getting that much positive feedback is priceless."

Sessomes was equally heartened by reports she received from the visitors.

"The Macy's representative told someone from my staff that this was among the best job fairs she's attended, because the women were so engaged," the Assistant Commissioner related.

For Jovani Diaz, one of hundreds of Edna Mahan inmates who attended the event, the gathering was especially relevant, since her release date was less than two weeks after Career Day.

"I was really looking forward to this, because I want to take advantage of any opportunity that could help me become a better person and a productive member of society," she said. "It's gratifying to realize that there are people out there who are willing to give me a chance, an opportunity to show how much I've grown as a person. Now it's up to me to take advantage of these opportunities."

Back in 2005, Esperanza Maldonado was an inmate at Edna Mahan. On this day, however, 14 years later, she was seated at the Sansone Auto Group table, discussing employment possibilities with current offenders.

"For me, this is an opportunity to come back here, share my story and let people know that being an inmate here isn't the end," she stated. "If you decide you want more and that you're willing to change, there are people who can help. When I was here, I was making $1.45 for picking up trash on the highway. Now I'm making six figures, so you can't tell me there's no hope."

At the table to Maldonado's immediate right was Tracey Syphax, a successful entrepreneur and author who was incarcerated in the early 1990s.

"There was a time when I was in the same situation as these women, so I'm living proof of what's possible once you leave prison," he said. "All of these folks from the community are here because they're willing to help these women make the transition back into society. I tell them that it's not necessarily going to be easy, but take advantage of what's available, and don't be afraid to work for what you want."

Variations of Syphax's message – that hard work and determination are prerequisites to future success – were repeated by numerous visitors throughout the event.

Marjorie Perry, President and CEO of MZM Construction and Management Company, Inc., encouraged the offenders to stay focused and not to be afraid to fail.

"When you encounter rough times, and you will, make sure you have people around you who will pull you up and out – and not remind you how bad things are," she said. "Education is essential. You can always go to the library. You can always study. There are so many things you can do online. Don't sit around waiting for somebody to tell you what to do. Go out there, and be proactive. Make it happen."

Perry did, indeed, make it happen for herself.

"I'm a black woman in the construction trade," she noted. "Sometimes I'm the only black woman in the room. I had to learn the game, understand the language, try again if I failed, go back to work on my civil engineering degree, go back to work on my MBA. All of these things were steppingstones to where I am today. When the women here ask if they can succeed, I tell them yes. Absolutely."

John Harmon, Founder, President and CEO of the African American Chamber of Commerce of New Jersey, is committed to persuading inmates to believe in themselves and what they can accomplish. He is well aware the task can be challenging.

"People have value, but they don't always understand their own worth," he said. "We're here to reassure them that there is another life after this life, but if you don't work to become a productive member of society, you're going to come back here.

"Outside of here, there is the potential for a tremendous upside, but there are steps that need to be taken. It's not going to be easy, but you can do it. Use the tools available to you. Leverage the resources. This room is filled with people who want to help. If you're receptive, it could be a different day when you leave here."

One of the people who was available to help the offenders was Weldon Montague of the New Jersey Department of Labor, who announced that every inmate who attended Career Day would be bonded for up to $50,000. Thus, in a case of property loss due to the employee, the employer would be reimbursed.

"It benefits both the applicant and the employer," Montague explained. "Bonding gives an employer piece of mind as well as an incentive to hire you. It's a win-win. These women may have made a mistake in the past, but let's look forward, not backwards."

The New Jersey Motor Vehicle Commission created a Driver History Abstract for each participant. The Abstract includes information on moving violations, points, accidents and license suspensions.

"Everywhere you look, there are resources," said inmate Jade Fanz. "It gives us hope."

Edna Mahan Administrator Sarah Davis has heard similar sentiments from large numbers of participants.

"The feedback," she said, "has been overwhelmingly positive."

NJDOC Chief of Sta" Suzanne Lawrence noted that employment fairs previously were held at Northern State Prison and South Woods State Prison. In keeping with the Department's commitment to offender reentry, she reported that additional events will be held in the future.

"People realize that offenders are returning to virtually every community," she said. "By supporting them and helping them to succeed when they rejoin their communities, we're enhancing public safety. Furthermore, we're demonstrating that every individual matters."

Matt Schuman is a former newspaper reporter and editor who serves as the Public Information Office for the NJ Department of Corrections. He has been with NJDOC since 2000.
---