Corrections Degreasers
By Robert Kravitz, President AlturaSolutions
Published: 09/16/2019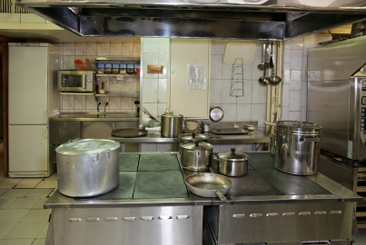 Most North American correctional facilities have two types of workers in the kitchen:

1. Staff hired or contracted by the correctional facility to plan menus and prepare food
2. Inmates who assist with food preparation.

Many correctional facilities also have arrangements where outside kitchens prepare food and then deliver it to the correctional facility, while others hire their own chefs and kitchen staff. In either case, both "civilian" chefs or delivery personnel, as well as inmates, will be working in the kitchen all at the same time.

Because of this combination of workers, many safety measures must be taken into consideration.

For instance, there must be a clear view of the entire kitchen from just about any angle. Gaps between kitchen appliances and walls must be eliminated. Even though the inmates are monitored, and check-in and checkout procedures typically are in use, there still must be no places for someone to hide.

The appliances used in correctional kitchens may appear similar to those installed in any large foodservice operation, but upon closer look, refrigerators, stoves, and other appliances have what some manufacturers call "correction packages." This means the equipment is somewhat modified, again for safety purposes.

The equipment, for instance, is typically much more durable because it may not be treated as gently as if it were installed in a "civilian" kitchen. Further, many manufacturers design controls, knobs, and movable/detachable parts so that they cannot be torn away from the equipment. The reason for this is simple: if parts can be detached, they could be turned into weapons.

The same logic even applies to such things as the plastic items used for cooking and food preparation. Some conventional plastics used in the cooking process can be melted down with heat. Once they cool, they harden and can be turned into weaponry. Plastics that fit under the umbrella of correctional packages do soften when heated, but they remain so. They do not become stiff, minimizing the possibility that they will be used as a weapon.

Healthier Cleaning

We've just touched the surface on the many differences between a kitchen in a correctional facility and one in a commercial foodservice facility. The thing correctional administrators must always keep in mind, according to Robert Moak, with TriMark Food Service Equipment, "is that prisoners have nothing but time on their hands and can be very creative. You have to figure out how creative they'll be with [kitchen appliances] and products."

However, there are ways correctional and commercial kitchens are similar, and one of the most prominent is in how they are cleaned. In fact, both correctional and commercial kitchens are moving away from traditional kitchen cleaning solutions and moving toward healthier cleaning. Both are re-examining the cleaning agents they have used for decades, products often made with ingredients that, while proven effective, can be dangerous to health and the environment. A perfect example is 2-butoxyethanol, often called 2-BE. This ingredient has been used since the 1930s as a solvent to break down soils, grease, oil, and residue on all types of kitchen surfaces from floors and walls, to kitchen appliances and stainless. Because it works, 2-BE is still found in many kinds of cleaning products from all-purpose cleaners to window cleaning solutions; and, because it has been in use for nearly 100 years, 2-BE is relatively inexpensive.

Although 2-BE is effective, it is toxic and can cause vomiting when used, especially if misused. 2-BE can also cause headaches, shortness of breath, and have a narcotic effect if inhaled in large amounts. If absorbed into the skin, it can cause pain and swelling, and potentially damage kidneys, the liver, and other organs.

"The general public does not hear that much about it, but many correctional facilities are taking significant steps forward to eliminate these old cleaning solutions and transfer to healthier products," says Mike Watt, Head of Training and Product Development at Avmor, a leading North American cleaning solutions manufacturer. "Just as with commercial food service facilities, they are transferring to green-certified cleaning agents."

Robert Kravitz is a frequent writer for the professional cleaning and correctional industries.
---