The 21 Years of My Life I Wish I Could Change — Part 2
By Mike
Published: 12/09/2019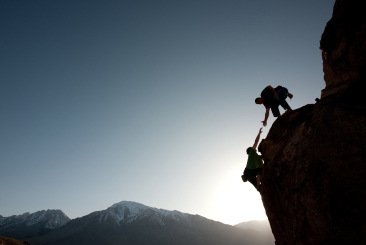 For those of you who are reading this and who read the first part of my journey, I want to say it will get better, but it is not easy.

I have found that my journey through this process has its ups and downs. After a short lived stint of happiness and enjoying life again, I found myself slipping back into depression. Sure, there are times in everyone's life that we all get depressed, but my depression has been on a whole different level. The sad, alone and horrible feelings that I had before came back, and they have been extremely hard to get rid of. The daunting task of waking up to my alarm, putting my uniform on and heading to work has been exhausting. I could feel it sucking the life out of me as I'd get closer to another day surrounded by inmates, negativity and ugliness. I found myself leaving for work an hour earlier than normal, only to park my car in a secluded pullout and cry. I'd sit and drink my coffee in the silence, dreading the day that's to come and cry. When I arrived to work I acted like everything was okay and went through the motions, plugging away and being fake to my Officers, because I didn't want them to think their Sergeant was weak and falling apart. I have a job to do, and it is what I signed up for.

When it'd be time to get off of work, I'd leave exhausted, barely able to drive home without falling asleep. And when I'd get home, I'd just want to go somewhere quiet and be left alone. I hated this part because my family needs me. My kids need their dad, and my wife needs her husband, but I didn't know where he was. I'd lost him and I missed him terribly. I missed that guy that looked forward to coming home and being with his loved ones. I missed the once funny and happy person who had once again disappeared from my life. I'm sure my family missed him also. I missed the guy who looked forward to things and found joy in simple things like the sunrise, the sunset, the smell of fresh cut grass, the sound of birds chirping, the sound of my kids laughing, seeing their beautiful smiling faces and looking into my wife's beautiful eyes. Those things were still there, but it was a struggle to enjoy them.

I addressed these feelings and issues with my therapist, and we both agreed it was time to visit the medication part again. I agreed that there was something missing, and I know that there is a very logical medical explanation as to why a person needs to take medication for depression, but I just needed to be ready for it. I wasn't ready to take it before, and I was managing without it.

It has been explained to me that I need to rewire my brain and my way of thinking. It sounds easy, but it's not. You see I've been in this funk for so many years, that it's all I know. Like I explained in my first article, I'm comfortable with it and of course miserable, but comfortable. It sounds strange, but all these years of negativity, trauma and the heightened awareness have hurt my brain, and now it's not functioning in a healthy way.

Through this journey I've been searching for answers and constantly looking for that ah ha! moment that clarifies why I feel this way, only to realize it's my brain not communicating to itself properly. I am lacking the "nourishment" it needs to function at a healthy level. This is where the medication comes in. So I started taking a Selective Serotonin Reuptake Inhibitor (SSRI), Citalopram, which changes the levels of serotonin in my brain, and a NorepinephrineDopamine Reuptake Inhibitor (NDRI), Bupropion, which increases the levels of the mood-boosting chemicals Norepinephrine and Dopamine in the brain. With these medications I can honestly say that I am slowly climbing back out of that horrible pit. I have more energy, I laugh again, and, most important, I feel like I have a purpose on this earth. I'm finding once again enjoyment in things, enjoyment that I had lost.

I was really against the medication aspect, but maybe it helps my brain and my thinking to get back on track. I hope that one day, with trying to rewire the way I've been thinking for years and taking the medication, that I will be able to function without the medication. Only time will tell. And if not, so be it, I will continue to take the medication if that's what I have to do, because that guy that had taken over my life recently needed help.

I truly feel better now than I did a year ago, before therapy, acupuncture, supplements and the PTSD retreat, and all that was positive, but there was something missing—the medication. I will continue to do these things with the medication, and I will to climb out of this dark pit that I'd fallen into.

I wanted to write this article (Part 2) to share with others that read my first post that it's not all magical. I'm not magically healed. Healing is a work in progress. Like I said in the first post, sometimes it's two steps forward and one step back, although at times it may be three steps back. I have to keep pushing forward, cry when I feel like crying, and keep seeking the help that I waited so long to reach out for. Maybe if I sought the help I needed earlier in my career, it wouldn't have been so hard to correct the problem.

Once again, if you are struggling you are not weak, weird or broken. You are human and you are not alone. Reach out and get help when you feel it is time. There are many great people out there that are willing to help you. Don't be embarrassed or ashamed about it. Reach out and GET YOUR LIFE BACK!

For a lot of us stuck in this funk just talking to someone and being open helps. You have to be ready for this , and you have to get past the stubborn "I'm fine" thoughts. Therapy has helped me a great deal, and it was the best decision that I have ever made. I have an amazing therapist that has a wonderful outlook on life, is very humorous and bright. She is someone that I look forward to talking to. A lot of it is just conversation. Just talking about the past or everyday dilemmas actually has an amazing effect, especially when you've been shut down for so long. It feels good to get it out.

Through this journey I have discovered that my depression and treatment are no big secrets any more. I find myself sharing openly about the fact that I have been in a really bad spot for a long time and once again I'm climbing out of it. I'm not ashamed of it and maybe my testimony will help someone, maybe just one, but one person is better than none.

Sincerely,
Mike

This article as been reprinted with permission from the November 2019 Issue of Correctional Oasis, a monthly e-publication of "Desert Waters Correctional Outreach".
---