Tales From the Local Jail: John Wayne, Sunsets and Life
By Gary F. Cornelius, First Lt. (Retired)
Published: 01/20/2020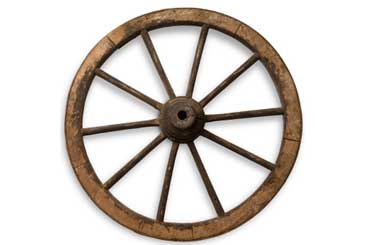 If there is one thing about retirement that I have learned is that you can choose your times to work-and choose your times when you do not want to work. In other words-you can make your own schedule.

Therefore-some days I take off. I like to read-and I like to watch western movies. One of my favorite stars has always been John Wayne-The 'Duke'. I am reading a great book about his life, and came across an interesting passage that says something about him, his outlook on life, and a lesson for us all. However-before I get into the theme of this column, I would like to share some interesting facts about this American icon.

First, John Wayne loved his work. From the early 1930s to his passing in 1979, John Wayne acted in 180 motion pictures. In 1960, he produced, directed and partially financed the movie The Alamo. His work ethic was described as 'incessant', and an actor friend of his tried to get Wayne to relax, and said, "I hope that he [Wayne] doesn't kill himself with overwork". The friend, actor Ward Bond, also said that [Wayne] "doesn't have time to do that [relax] anymore". Second, Wayne also smoked, and had a four to five pack a day smoking habit, smoking unfiltered cigarettes. When not on camera during the filming of The Alamo, he smoked almost non-stop. In 1964, he underwent cancer surgery and had the entire upper lobe of the left lung removed. The tumor was the size of a chicken egg. Unfortunately, the cancer returned during the 1970s, taking his life in June 1979 (Eyman, 2014, Internet Movie Database).

John Wayne loved life, loved his work and loved the people he worked with. He also realized that bad habits, such as smoking, could cause cancer. He became a public advocate of the importance of getting cancer checkups.

So-what does John Wayne have to do with sunsets? In his later years, knowing that his cancer could return, he began to appreciate the simple, beautiful everyday things that life has to offer. While filming the 1971 western movie Big Jake, he was living on location with his son, Michael Wayne, who was a producer on the film. On a Sunday evening at sunset, the Duke was sitting in a rocking chair on the porch of the house. Michael came 'bustling by' and his father said, "come up here, sit down and look at this sunset". Michael answered that he could not; he had many details to work on for the next day's filming. John Wayne advised his son: "Let me tell you….the work will be there. This sunset isn't going to be there. It will never be there again". When Michael told the story, he realized that his father "had balance in his life. He was in sync with the world around him" (Eyman, 2014).

Balance. I remember in my early days at the jail, I would be thinking about the jail….the jail…the jail, constantly, even when I was off duty. Yes, I loved my job. However, as I got older-and we all will- I realized that balance between the job and a life outside the job has to be achieved. I also realized that if I died tomorrow, the jail will be there and it will go on.

I can recall several examples. I was driving home through the Shenandoah Valley in Virginia, after presenting several days of academy jail staff in service training. It was sunset, in the fall, and the sky was a mixture of purple and gold. To this day, I can still see it.

In addition, as I got closer to retirement, I used to treat myself to a little rest and relaxation, or what some of us call R & R. Everyone should find their own way of engaging in R & R. It can be simple and not cost a thing.

I loved my yard, and found great relaxation in yard work-the mowing, planting, weeding, etc. It gave me a sense of accomplishment. As a result, when I returned home from work at the jail, I would fix myself a cold drink or a nice cup of coffee, sit out on my back patio, look at my yard and watch the birds. It gave me a deep sense of relaxation, and I regained my balance. I was at home, with all off duty life had to offer. The jail, except for an emergency, could wait until the next day.

In closing, find your balance and stop and look around-and take a breath.

You will appreciate life-and learn to relax in the end.

Remember-The Duke and sunsets.

References:

The Alamo, Internet Movie Database, www.imbd.com
Eyman, Scott. (2014). John Wayne: The Life and Legend. New York: Simon and Schuster.

Visit the Gary Cornelius page

Other articles by Cornelius



Lt. Gary F. Cornelius retired in 2005 from the Fairfax County (VA) Office of the Sheriff, after serving over 27 years in the Fairfax County Adult Detention Center. His prior service in law enforcement included service in the United States Secret Service Uniformed Division. His jail career included assignments in confinement, work release, programs and classification.

He has been an adjunct faculty member of the Criminology, Law and Society Department at George Mason University since 1986, where he has taught four corrections courses. He also teaches corrections in service sessions throughout Virginia, and has performed training and consulting for the American Correctional Association, the American Jail Association and the National Institute of Justice. His latest book, The Correctional Officer: A Practical Guide: Third Edition was published in April 2017 by Carolina Academic Press. He has authored several other books in corrections. Gary has received a Distinguished Alumnus Award in Social Science from his alma mater, Edinboro University of Pennsylvania and an Instructor Appreciation Award from George Mason University.
---