Perimeter – Perimeter – Perimeter
By William Sturgeon
Published: 07/19/2022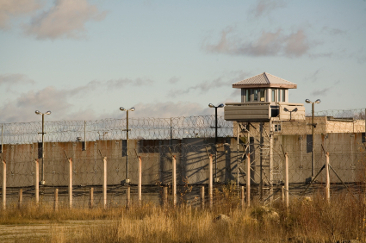 This article is written in anticipation of what could be a challenging summer for so many law enforcement agencies and judicial systems! After having reviewed hours of television video footage, and reading newspaper articles of events that took place in Portland, Seattle, and other cities over the past years, it has become clear that we have entered a new era. This new era is one where public buildings, especially those associated in any way with the criminal justice agencies, and/or the judicial systems, are now targets.

The United States Capitol and the United States Supreme Court are current examples of where perimeters had to be erected to protect life and property!

What can these agencies do to increase their security and safety? They can strengthen/harden their perimeters! Throughout the years, the process that I have used to develop perimeter security is as follows:

Clearly identify the perimeter that will need to be strengthened/hardened. (The perimeter is the first line of defense from external assaults, and the last line of defense for internal escapes.)
The perimeter now includes the airspace.
Check the sub-ground space below the perimeter e.g. sewers, power tunnel, manholes that can be accessed from outside of the perimeter that open within the interior perimeter.
Determine what materials and technology will be used to construct the perimeter.
Ensure that whatever material/s are used to construct the perimeter, that it is anchored securely to the ground.
Restrict the number of openings in the perimeter, preferably one pedestrian entrance and one vehicle entrance.
Establish an escape exit known only to staff.
Moveable metal barricades are not good for stopping large violent crowds and could overwhelm a lesser police presence.
Protect video cameras and ensure that wire and wireless connections are operational.
Have sufficient personnel to monitor live feed being transmitted to the Incident Command. The importance of this up-to-the-minute intelligence will provide crucial information:
On crowd size (Is the crowd growing or shrinking in numbers?)
Are there any weapons? if yes, the number and the types of weapons? (Remember, look for non-traditional weapons such as: frozen water bottles, bricks, fireworks, etc.)
Tactics (Storming, Climbing, Crashing through barricades).
This is the Twenty-first and perimeter security now incorporates the airspace and sub ground. Therefore, tactics must be developed to protect the perimeter from assault from drones!
Has the perimeter been breached? If yes, where?
Capturing visual evidence that can be used in court
Establish route/s for reinforcements to enter into the situation.
Start now to:
Establish intelligence networks
Develop specialized training for staff in perimeter control.
Adaptations, if necessary, to the agencies Use of Force policies and procedures
For the most part, the standard form of riot control is not practical for perimeter control.
Training in different weapons to be used (Chemical Agents, Flash Bang, Smoke, etc.). Ensure staff proficiency in the use of their weapons. It is fairly certain that legal actions will be initiated post events.
Establish First Aid areas for staff and demonstrators
Develop an Escape Plan for staff should the perimeter be breached.
Establish a time frame and criteria for an After Action evaluation.
Ensure the chain of custody for evidence.
Material, Technology, Training
The above areas should be the focal points for the team assigned to develop the Security/Safety Perimeter.
Just a quick mention about the exterior of the building/s that are within the exterior perimeter. As much as possible, the exterior doors and ground floor windows should be secure, and, if possible, boarded-up. Remember, at the Portland Federal Courthouse and at the Capitol Building, the ground floor windows were smashed out as the perpetrators attempted to gain access to these buildings. Double check the door locking mechanisms. (There was a facility that required the doors to automatically "Unlock" if there was a loss of power! Check out your system to see if this procedure is in place.)



Summary


As mentioned above, we have entered into a new era, where the law enforcement agencies and judicial systems that once were the cornerstones of our society have now become the sources of disrespect, defunding and ridicule of judicial decisions and Justices and Judges!

Because of these various groups' criminal activities, some of them will end up in local correctional facilities and police lock-ups! Knowing that this could happen, these agencies must prepare for this eventuality or be caught short, and that could lead to loss of life, personal injury and the destruction of property.

As Lao Tzu, warned us, "There is no greater danger than to underestimate your opponent." These extremist/ subversive/terrorist groups have already demonstrated their ability to attack and cause great damage to governmental and other buildings.

There are members of these groups who have had military training, para-military, and who believe in their cause/s. Some believe that the overthrow of the current government is their mission.

"Prepare for the Worst hope for the Best!" As Benjamin Disraeli, Prime Minister of the UK, said in his book "The Wondrous Tale of Alroy," 1833.

Wm. Bill Sturgeon, MA, is the author of the forthcoming book titled, "Think Like A Terrorist". He is a decorated Vietnam veteran who served with the 101st Airborne Division.

Visit the Bill Sturgeon page

Other articles by Sturgeon:


---