A matter of choices, part III: The job, the work—the fini
By Raymond E. Atchley
Published: 03/24/2008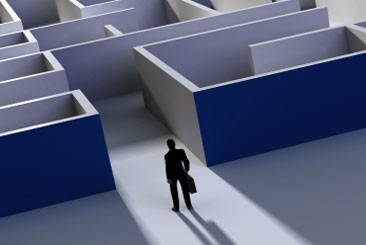 Editor's note: In Raymond Atchley's first two pieces, A matter of choices, 2/10/08, The interview cometh, 2/26/08, he wrote about his decision to return to the corrections profession, and the interview process he had to go through to get there. In part three, he finishes with his accomplishments and thoughts about the opportunity he obtained.

My interview for the position of detention officer concluded. As I pointed out during the questioning conducted by the three jail administrators: "Job interviews are problematic in their expectation of marriage size commitments but with only fifteen minutes of a first and only date."

During the interview I tried to make my very best impression. I sat up straight, and above all things, addressed all present with nothing but the truth. The question of whether I had ever been subject of a criminal investigation was answered with a resounding yes. I had been involved in police work for thirty some years and had suffered some allegations of misconduct by citizens on very infrequent occasions. Had I ever been convicted in court? Never. Had I ever been guilty? Same answer — but as Robert Kaplan(2002) in his book Warrior Politics noting what Machiavelli would exert "[G]ood men bent on doing good must know how to be bad" (p.53).

In my life I have known more about deviant or "bad" behavior than I felt comfortable with; how good that makes me is still under consideration. Nonetheless, I was hired and asked to start the very next week.

I reported to the detention center before my scheduled report day after being called in by the training lieutenant — had to give a urine sample. I always worry about those tests, and it has nothing to do with drugs, I have never indulged in anything not prescribed, but my marksmanship with small cups wasn't what it had been at one time.

I was transported to a contract medical center for the test, where, you might say, I held my own when the time came. Once released from the specimen duty and transported back to the detention center I retrieved my bicycle where I had secured it, and started the three-mile trek back home.

One thing about my hometown is that I'm about three miles from everywhere. Asked by one of my former students about why I was not driving a car to the office, I reminded him that fitness for duty was the officer's responsibility—not the department's. And believe me; I needed all the help I could get. I had been driving a desk for too many years. What else remained the same or different? I soon found lots of both.

When I had been a young rookie policeman, officers working in the jails and the prisons had made a choice to do so. Granted, some were compelled because of the directives of various sheriff's departments which required a deputy to do at least two years in jail duties before gaining eligibility to go on patrol, and from patrol — detective division or various other specialty squads.

There was never much of a question in my mind as to whether these souls were my brother (or sister) law enforcers, nor to most of my compadres. The only comment was usually some guffaw about those crazy so-and-so's working inside and how good "free" air felt. And especially towards those that remained in the jails and institutions because they preferred it to the unknown aspect of the open streets.

It appears today, though, that more officers than not are reticent about acknowledging any respectful status to those who work in our jails and prisons. Or at least until the facilities are full and they're stuck on detail at some local precinct holding cell. As I've noted in the beginning, certain biases disappear with age and experience. You know, if it has webbed feet and a bill it probably is a platypus.

What makes such disparity odd is the role of police officer has expanded more towards social worker duties over the year and so too for those in the corrections and detention fields. We are people of all seasons it would seem.

In the old days cops made the collar and jailers stored the bodies; those times of catch and keep are no more — good for me, good for everybody. I spent my time after training working in the pods, control, booking, supervising work details, holding, and segregation. But I discovered that some of my charges were former students when I had been a volunteer ABE (Adult Basic Education) instructor.

In an ad hoc effort, I found myself tutoring individuals in their writing and answering questions about the GED programs at the local community college, while I made my rounds and worked my duties as a detention officer. My teaching efforts were to grow further than just a hit and run spur of the moment effort.

The catalyst for change and another opportunity to make a choice in my personal direction came at the release of the movie the 300, an adaptation of a popular graphic novel [comic book in my mind] about the Battle of Thermopylae. I didn't realize how popular the book or movie had become for many of the inmates.

Greco-Roman history was my specialization in my Master's program, and I was asked by inmates to lecture on the ancient Persian Wars. I did—in the pods, which resulted in one of the inmates having his interpretation of the Spartans, by way of a pencil sketch, selected as the cover for Palabras , the writing journal for the Clovis Community College.

I was tiring quickly with my 12-hour work schedule and chose to talk to my supervisors about ideas for an alternative. I was proud to work with the men and women officers I had met and was determined not to just quit, but my age and a slight health issue were starting to give me some problems.

After a meeting with my Sergeant and Lieutenant, I met with the facility Warden. My last meeting with her had been during my interview. I wasn't quite sure what her response would be and must admit a little anxiety. How our meeting went can be determined by my signature hash for my official correspondence — Raymond E. Atchley, M.Ed., Detention Teacher Coordinator.

We have a functional classroom with four computers set up for classes at the Women's Annex, a testing office at the main building for pre-tests, plans for another classroom at the men's facility and a great many new partners in the community; with all of us working towards filling in the holes and gaps that many of our citizens have fallen through with bad decisions. Good work and good life is truly about choices not decisions.

Dr. Harry Wong in his bestselling guide for teachers: The First Days of School, noted, "The prefix, de-, means 'off' or 'away,' as in defeat, destroy, denigrate, and deemphasize. It is a negative prefix. The stem, cide, means 'cut' or 'kill,' as in suicide, pesticide, insecticide, and herbicide. To decide is thus to 'cut away' or 'kill off''—not a very happy activity" (p.278).

And with these wise words I made a leader's choice. I chose to be more relevant and to help others do the same, whether officer or inmate.

I invite all of my fellow officers to do the same. You know, what's right — be the example you know you can be. Do not let the negative aspects of what we do cause you to forget that you are not alone or that you not are appreciated. Self-fulfilling prophesies don't have to be to the negative. Vale!

End note:

Kapplan, Robert D. (2002). Warrior Politics: Why Leadership Demands a Pagan Ethos. Vintage Books: New York.

Wong, Harry & Rosemary. (2004). The First Days of School. Harry K. Wong Publications: Mountain View, California

Raymond E. Atchley is a detention teacher coordinator at Curry County Adult Detention Center in Clovis, New Mexico.
---