Stopping Correctional Worker Suicide
By Caterina Spinaris
Published: 03/08/2010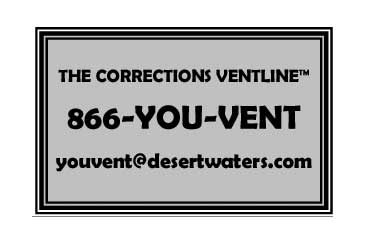 The corrections field is plagued with the scourge of staff suicide. Recent statistics from New Jersey show that corrections officers commit suicide at over double the rates of police officers and the general population. From 2003 through 2007, for males ages 25-64, per 100,000 the suicide rate for C.O.s was 34.8, for police 15.1, and for the general population 14.0. (NJ Police Suicide Task Force Rpt.pdf).

These are startling numbers. What might they be due to? Corrections workers have to deal with whatever we all face—financial, family and personal issues. On top of that they are regularly exposed to the darkest of the dark of the human condition—violence, horrific crimes, mental illness, suffering, investigations and jaded coworkers. Life is very cheap behind the walls, perhaps making one's own death a more acceptable option to some. Here are some grim examples of recent correctional workers' suicides, including a gruesome murder-suicide.

On 8/4/09, Essex County, NJ, Corrections Officer Kelley McKenith wounded her boyfriend and then shot and killed her 4-month-old baby before taking her own life.

After leaving the Union County Jail, NJ, at lunch hour on 9/2/09, Frank Congiusta, a 16-year veteran Corrections Officer fatally shot himself with a handgun inside his vehicle parked just down the street from the jail.

Of course the same pattern exists in other states. On 1/25/10 a 6-year North Carolina Correctional Officer on perimeter patrol at the Pasquotank Correctional Institution, a high security prison for adult men at Elizabeth City, used her service revolver to kill herself on the job.

Correctional worker suicide is not limited to the U.S. In the Gauteng region of South Africa in 2009 alone FOURTEEN (14) Corrections Officers died by suicide!

What can we do to stem this suicide epidemic among corrections personnel?

Let us examine what our neighbors to the north have done to address the issue.

From 1975 to June 1992 the Toronto Police Service experienced twenty-two (22) Officer suicides. However, after interventions were implemented starting in 1992, that number was reduced to ZERO Officer suicides at least until July 2006. (Statistics are provided only until that date on http://efap.torontopolice.on.ca/suicide.html. Now, THAT'S Best Practices! How did the Toronto Police Service do it?

The author of the website article, Jaan Schaer, B.A., states, Officers and their families have to be assured that the Service cares about them and provides support services that they have the confidence to access. Through ongoing proactive educational sessions officers develop life skills that they can use when the need arises. Effectiveness of these initiatives relies on the co-operation and commitment between the stakeholders, stringent confidentiality guidelines and adequate resources being dedicated to the programs. Times have changed in the Toronto Police Service. It no longer is acceptable to ignore your own or someone else's pain. Maturity and professionalism is shown by a member knowing when it is time to seek out a support contact.

Below is a summary of Toronto Police Service's steps to support staff. What stands out is the collaboration between administration and union; the comprehensive nature of the approach; unlimited funding for traumatic stress treatment; strong emphasis on confidentiality; and starting with the new recruits at the training academy.

The Command Officers (management), Police Association (union) and Senior Officer Organization set up the Employee and Family Assistance Program.
The Chief of Police autographed and personally presented the book "To Love a Cop" by Dr. Ellen Kirschman to all recruits and newly promoted Sergeants.
The Chief of Police addressed graduating Police Officers and emphasized the critical need for them to maintain a healthy family life and a personal wellness program.
Policies and procedures are in place to protect confidentiality.
Services are available to all employees—past and present members, retirees, dependants, and auxiliary staff.
There is an off-site confidential assessment and referral center accessible 24/7 for Critical Incidents, family/spouse/bereavement issues, and addiction issues.
There is a list of screened community Mental Health Providers for referrals.
There are 50 volunteer peer supporters from a cross-section of the membership and job categories.
Critical Incident Stress Management is provided by a trained Debriefing Team.
There is unlimited coverage for trauma therapy.
Proactive and ongoing educational initiatives are provided together with training for supervisors to manage troubled members, wellness articles, monthly ads, brochures, and information packages.
There is a medical fitness for duty team.
Instructors at the training college are trained to observe and intervene with members exhibiting signs of distress.


It is high time to implement such proactive steps in our correctional agencies across the nation. Of course they are costly. But what is a human life worth?

In closing, here are some thoughts on the subject by a former C.O. Take them to heart. He cares deeply for you all and so do many others.

We have all been in some very dark places in our lives. I know that I have, and sometimes suicide seems like a solution. What has helped me to hold on in seemingly hopeless times is something my father shared with me in my darker days. "No matter what position you are in, there is always hope and potential while you still have life. Once your life is gone there is no hope, there is no recovery. It is over, and there is no getting it back." If this reaches anyone out there who is contemplating this as an option, please talk to someone. Call the Ventline. [866-YOU-VENT]

I hate hearing the news of corrections workers killing themselves. Everyone makes mistakes, poor choices, and is afraid of consequences. But no consequence is so severe that one should do this to themselves. God bless you all. Take care of yourselves and one another.

Visit the Caterina Tudor page


---