Better Serving the Deaf Community
By Jessalyn Frank, State Director, Communication Service for the Deaf, Inc. (CSD) of Minnesota
Published: 11/08/2010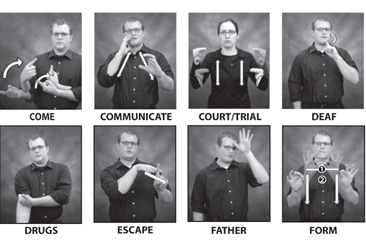 There are approximately 28 million individuals with hearing loss in the United States. One (1) % of those 28 million are Deaf while ninety-four (94) % are Hard of Hearing /Oral Hearing Loss, and five (5) % are Late Deafened. These terminologies are not to be used interchangeably. Various backgrounds of education, parental upbringing, and exposure to language result in different communication modes among these groups.

During training of law enforcement personnel they learn there isn't just one approach when working with deaf and hard of hearing individuals. It is important to be aware of the various forms of communications they may encounter. American Sign Language (ASL) is an official language, but there are other communication modes used by deaf and hard of hearing individuals. ASL is a visual language that makes use of the entire body, facial expressions, gestures, body movements, and hand signs. It does not follow English word order and there is no written format of ASL. Another communication mode often used is speaking and signing at the same time which is called Simultaneous Communication. This is not a formal language. Finger spelling every word is another way people communicate as are oral communications or the use of cued speech.

How do I identify hearing loss? There are many ways to indentify whether someone may have a hearing loss, for example: the individual does not respond to a verbal request; may use hands to communicate; may be speaking but indicate they can't hear your response; may gesture "can't hear" by pointing to ears; may gesture "write paper and pen." Law enforcement can look for other visual clues, such as a visor card indicating hearing loss, gestures or signs indicating communication needs, visual indicators such as a hearing aid, spoken communication or lip reading may indicate hearing a loss.

When in doubt: ASK. Effective communication skills used by law enforcement include good eye contact, waving of hands, stomping on the floor to get their attention, blinking of the lights when entering the room, tapping on the table to let them know your there, tapping gently on the shoulders or upper arm depending on the situation. Participating in effective communication etiquette would mean that as law enforcement personnel you are aware of your communication environment, the noise level around you, your facial expressions, speech clarity, topical change cues, level of conversational details, and your visual gestures. It often helps if you rephrase or use a different word selection if the individual does not understand.

Included in this issue you will find a "Sign Card" (below). These are some of the signs law enforcement are encouraged to learn to "begin" the communication process. Knowing some basic signs helps law enforcement assess the communication needs quickly. The most important first step is to ask the deaf or hard of hearing person, "Do you need an interpreter?"

Click here for a copy of Law Enforcement Personnel - "Lets Sign" - Basic signs and tips for communicating with deaf people. (Print double sided on Legal size paper, cut & fold to use as a handy guide)

Jessalyn Frank, State Director Coordinator of Advocacy and Education Communication Service for the Deaf, Inc. (CSD) of Minnesota

Editor's note: Communication Service for the Deaf, Inc. was established in 1975, primarily to provide sign language interpreting services to deaf and hard of hearing adults in South Dakota. Today, CSD employs over 1,500 individuals in offices across the nation, providing a broad continuum of social and human services programs, as well as telecommunications relay and contact center services. CSD is a private nonprofit agency dedicated to providing quality services; ensuring public accessibility; and increasing awareness of issues affecting the deaf, hard of hearing and individuals with speech disabilities. For more information, please visit: www.c-s-d.org.
---