Hazmat Suit for the Soul
By Caterina Spinaris
Published: 01/03/2011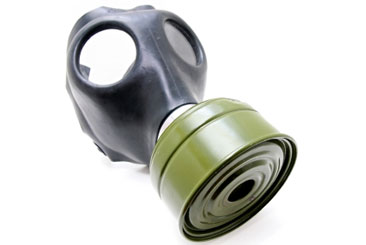 The other day I heard someone say that as firefighters expect to see charred bodies on the job, correctional workers should expect to encounter violence at work, and consequently, should be prepared to deal with it and not be bothered by it.
The speaker made two points here: (1) that staff should be prepared to deal with workplace violence, and (2) that they should not be bothered by it.

These are two separate issues.

I venture to say that corrections agencies train their staff well to deal with violence—to prevent it, quell it as safely as possible, and minimize harm to coworkers and offenders.

However, whether the staff is psychologically affected or not is usually not addressed at great depth. The traditional perspective has been that corrections staff "should" not be affected because they are "tough." But how realistic is that expectation?

To expect people, even highly trained law enforcement officers, to be unaffected by life-threatening situations, serious injuries or death, is naïve at best. To expect them to be unaffected even after continued, repeated exposure to such events betrays lack of understanding of how the human nervous system and soul are impacted by exposure to violence and death.

Those trained to clean up toxic materials expect to deal with such spills, but they are not sent to a toxic dump in a pair of jeans and a t-shirt! Quite the contrary, when dispatched to a spill they are expected to put on a hazmat suit.

Correctional workers are at times thrust in situations that make war zone scenes pale by comparison in gruesomeness and mayhem. What kind of hazmat suit are they given to wear while exposed to such incidents? Unfortunately, oftentimes the staff's only defense is a machismo attitude that nothing can get to them, that nothing disturbs them.

The correctional workplace culture reinforces the misconception that you are "weak" if you are disturbed by violence. This strips staff of the freedom to admit to themselves and others when they have been wounded emotionally at work. Consequently they end up trying to cope with not even a thought for a psychological "hazmat suit," and if one were provided for them, they might leave it lying on the ground, unused.

So what happens to those exposed to traumatic incidents on the job? My experience treating correctional workers for 10 plus years suggests that usually the toxic impact of such events accumulates over time, with some staff exhibiting what has been labeled "negative resilience." 1

Resilience can be defined as the ability to cope with adversity. Resilience enables people to "bounce back" to a previous state of normal functioning after experiencing stress, or even to grow from it, functioning better in some areas than they did prior to their exposure to adversity.

Negative resilience is defined as the semblance, the appearance, of resilience following traumatic exposure, when in fact those exposed are coping poorly. Therefore, individuals, such as military personnel or police officers, may say that they are used to traumatic events, that they are not bothered by them, when in reality they are becoming increasingly more fragile psychologically.

Negative resilience is the result of "disenfranchised distress," distress that is experienced but not allowed to be expressed because it is rejected or ridiculed by the unwritten "rules" of the organizational culture.1

Negative resilience helps staff "keep it together" for a season with the "spit, gum and rubber bands" of denial and psychological numbing/dissociation. 1 (Dissociation is, for example, a disconnection between memories of events and emotional reactions to them). The defenses of denial and psychological numbing/dissociation usually recruit the help of substance abuse or other addictive behaviors as means to block awareness of distressing emotions or thoughts.

Due to these defenses, some members of the military or law enforcement may appear unaffected for a time period following a traumatic incident. 2 However, at some point they may no longer be able to maintain the facade of "I'm just fine," and they "crash." This is called the "twin peaks effect," with one peak in traumatic symptoms occurring when exposed to a traumatic stressor, and the other at a later time. Military personnel exposed to a traumatic event might "crash" about 60 days later, even though they have been conducting combat operations during those 60 days. For police officers the negative resilience phase may be as long as 16 years (the average number of elapsed years from hiring on to the force to completed suicides for French police officers).[1]

Corrections workers deal with situations very much like those of other law enforcement officers, and at times even like military personnel in combat. What can we do to help correctional staff cope effectively with multiple traumatic exposures, thus very likely also helping reduce sick leave rates, sagging morale, work-related disability claims and turnover, among other consequences of continual extreme stress?

One thing is clear: denial and numbing/dissociation do not help put together an enduring hazmat suit. If these defenses do not work in the long run, then what does?

Effective hazmat suits for the soul can be provided through a variety of psychological prevention and intervention methods.

Through research several protective factors have been identified that help counter post-traumatic symptoms of police officers and increase positive resilience. [2] Some of these factors are social support, and ways to make sense of traumatic circumstances by rendering them more meaningful, manageable and comprehensible. Of course, to be open to social support, officers have to resist the urge to isolate, which is one of the symptoms of post-traumatic stress.

Prevention can therefore be offered through cognitive resilience trainings that implement findings such as those cited above as well as other methods found to bolster positive resilience.[3] Intervention can be offered as suggested in the prior issue of the Correctional Oasis, through the provision of various types of prolonged exposure treatment soon after traumatic incidents. For others, psycho-spiritual interventions help process traumatic memories and release their emotional impact. These methods are akin to the proverbial stitch in time that saves nine.

However, the first step in providing hazmat suits for the soul consists of legitimizing and validating the distress staff may experience on the job due to exposure to violence. Correctional workers must give each other permission to take the hazmat suit provided to them and put it on. Through trainings and ongoing practice the message must go out that staff exposed to workplace violence and death may experience fear, helplessness and horror. Staff needs to accept that there is no shame in acknowledging that. (By the way, the emotional reactions of fear, helplessness and horror are likely to be stronger the first few times when exposed to gore or danger. After a while these reactions might be blunted, due to the staff becoming desensitized and emotionally numb, which in itself is a symptom of psychological trauma.)

Providing anything less than "best-practices" prevention and intervention measures for corrections staff exposed to violence and death amounts to sending hazardous material removal teams to a spill site without hazmat suits.

I realize that preventative measures and interventions of the type I am suggesting do not get implemented overnight, as they need to be explored, studied and experimented with carefully. Additionally, organizational culture change is a tall order. However, ANY steps in that direction will be beneficial. These are challenging yet worthy goals which need to be pursued by everyone who works in corrections.

REFERENCES

Friedman, M., & Higson-Smith,, C. (2003). Building Psychological Resilience: Learning from the South African Police Service. In Paton, D., Violanti, J.M. & Smith, L.M., (Eds.), Promoting Capabilities to Manage Posttraumatic Stress: Perspectives on Resilience. Charles C. Thomas, Springfield, IL.
Friedman, M. (1996). Emergent self management for security and emergency personnel in situations of continuous traumatic exposure. Paper presented at the European Conference: Stress in Emergency Services, Peace-keeping Operations and Humanitarian Aid Organizations, UK.
Ursano, R. J., Grieger, T.A., & McCarroll, J.E. (1996). Prevention of Posttraumatic Stress: Consultation, Training , and Early Treatment. In B.A. van der Kolk, A.C. McFarlane & L. Weisaeth, Traumatic Stress: The Effects of Overwhelming Experience on Mind, Body and Society. New York: The Guilford Press.


Visit the Caterina Tudor page
Other articles by Tudor:
---