Getting a Grip
By Caterina Spinaris
Published: 03/12/2012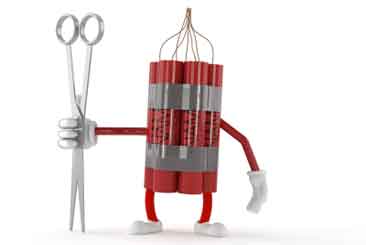 There is no shortage of challenging situations in life. The issue is not IF but WHEN they will happen. Sometimes we find ourselves dealing with several such situations in one day. It is easy to end up feeling irritable and frustrated.

That is why we need tools to weather storms. The way we react to challenges can increase or decrease the degree to which we feel stressed. That is, we have a choice as to how much we upset ourselves, as opposed to viewing frustrations in ways that do not steal from us hope or peace of mind (at least not for very long)..

In a nutshell, what we tell ourselves about aggravating situations and how we choose to respond to them deter-mines if we'll get horribly uptight, or if we'll be perturbed but able to move on and perhaps even grow from the challenge..

Learning to "talk ourselves down," to deescalate ourselves, is a coping technique that can be a life saver. When we calm ourselves down we are more in charge of our circumstances, as our behavior becomes more rationally intentional and less impulsively reactive..

Here are some things we can do or tell ourselves to lower our emotional temperature in order to detach from irri-tating situations and engage in constructive problem-solving..

Take a few deep, slow breaths. Exhale, breathe in, hold it, exhale. And again. Repeat.
Slow down and back up to get a better perspective on the aggravating situation.
Ask yourself, "In the long run, will this thing that is upsetting me right now truly matter? What will it mean to me ten years from now? Will I even remember it?"
Ask yourself, "Are hatred and hostility worth it, or could they cost me precious relationships, my job, my own self-respect or even my health?"
Tell yourself, "I'll give myself time to cool down and examine the facts, one at a time."
Tell yourself, "I'll take a time-out to think about how I want to respond to this to make it a win-win situation."
Tell yourself, "I am not going to take this personally. This is not about me. I'll let it go."
Tell yourself, "Sooner or later, this too shall pass."
Tell yourself, "I'm human. And humans make mistakes, which are ultimately learning opportunities. I'm going to learn and grow from this."
Tell yourself, "I choose to accept the situation as it is and focus on what good can come from it."
Tell yourself, "My job is to do my best right now. The rest is not up to me."
Tell yourself, "Baby steps add up. Just take the next baby step forward in the right direction and keep going."
Tell yourself, "Patience! Good things take time. Weeds grow overnight. Oak trees take 20 years.".


These are some ways we can talk ourselves down when we feel angry, discouraged or hurt. The point is to disen-gage our emotion-based fight or flight urges, and instead to engage our reason and some of our highest values..

I'd love to hear about some of your coping techniques. If you'd like to share, send me an email at caterina@desertwaters.com.

Corrections.com author, Caterina Spinaris Tudor, is the Executive Director of Desert Waters Correctional Outreach (DWCO, www.desertwaters.com) and a Licensed Professional Counselor in the State of Colorado. She works with correctional employees and their families, addressing the unique demands of the correctional workplace and its toll on staff and families. The mission of DWCO is to increase the occupational, personal, and family well-being of staff of all disciplines within the corrections profession.

Visit the Caterina Tudor page

Other articles by Tudor:


---