Avoiding the Anger Trap
By Caterina Spinaris , and Gregory Morton
Published: 09/24/2012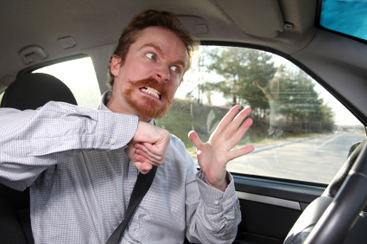 When we perceive ourselves to be opposed, threatened, disrespected or mistreated it is easy to get angry and go into attack mode, emotional guns blazing. This may feel good and warranted at the time, but it subjects our whole being to a full-blown stress re-sponse with all its destructive consequences. Such reactions also cause us to handle ag-gravating situations in hostile ways, and so increase the possibility of conflict and further stress in our lives. Throwing more gasoline on a fire only makes the fire bigger.

To not be consumed by our anger, we have to be able to keep it from overtaking our thinking process and our actions.

Usually anger is preceded by some split-second underlying emotions and thoughts that stem from our often preconscious assessment of a situation. For example, we might feel afraid, disappointed, embarrassed, hurt, betrayed or abandoned. To protect ourselves and to insulate ourselves from these painful emotions, we lash out in anger. With cor-rections employees, when the fight-or-flight brain circuits get activated, fight seems to win the day most often, as we do not want to appear weak. (That applies to both our professional and personal lives.) Such reactions keep adding wear-and-tear to body, soul and spirit through the stress response.

To refrain from stoking the fires of anger, we need to learn to recognize and dismantle the thought patterns that feed it, the thought patterns that hook us. Let us look at some of these thought traps and ways to free ourselves from them. This material is derived from the work of pioneers of cognitive therapy, such as David Burns, Aaron Beck and Albert Ellis.

Entitlement

Believing that we are entitled to have life unfold according to our best-case scenario is one guaranteed way to get angry when, instead, we are confronted with unexpected turns. This type of thinking is betrayed by the use of words that show inflexibility and rigid expectations, such as, Should, Must, Ought to, and Have to. Much aggravation stems from applying the "Should's" to interpersonal situations where we demand that people be respectful, fair, considerate, prompt, diligent, decent. The same "Ought to's" can upset us to the core when inanimate objects, such as machine or software, do not perform according to our expectations and even when the weather disappoints us.

Rephrasing our expectations as preferences takes the sting out of the situation and helps modulate our stress response. Thoughts such as "I prefer that they did …." or "I would rather …." have a much more benign impact on us than the angry "should's" about our rights or demands. Instead of demanding that people "behave," we may be better off planning what to do and what consequences to mete out if others choose to not behave ap-propriately. This is one place where taking corrections work home can surely become a hidden trap in our pri-vate lives. The legitimate authority we have at work, where set expectations are a way of life, disappears when we rejoin our family and the rest of our community. (How many times have we heard family members say, "Stop treating us like we're your inmates!") And regarding the weather or the performance of inanimate ob-jects, the only way to sanity is acceptance of what is, working on solutions to challenges, and looking for the pos-itives in unexpected situations.

Perfectionism

Expectations can also get us riled up when we demand perfection either from ourselves or from others. Learning to use the phrase "Good enough!" can get us off the hook of self-disgust or disgruntlement with others when we encounter less than perfect performance. "It was good enough." "They did the best they could, given the circum-stances." "These mistakes are part of the learning curve. Let's learn from them." These are helpful ways of think-ing that keep us and others on the path of sustained effort and improvement. Perfectionist criticism of self or others is de-motivating, especially when directed at a strong and substantive effort. When the 10% is criticized relentlessly in the context of 90% success, and 90% success is greeted with the same critical attitude as a half-hearted effort, people (ourselves included) become angry and discouraged. This can result in the 90% success turning into 80% next time and continuing to plummet if the perfectionist criticism continues.

What is needed instead is becoming able to address our own errors and request improvement from others through clear-headed problem solving and by always pointing out first areas of accomplishment and progress. Such strategies keep us and others fueled up with encouragement instead of setting ourselves or others on fire emotionally and physically by focusing on imperfections.

Negative Mind Reading

Every single interaction we have with others either improves or erodes our relationship with them, even if only slightly. Negative mind reading—attributing to others negative thoughts about us—sets us up for a jog down the relationship erosion path. Our anger can start boiling if we begin to suspect that someone dislikes us or is out to "get us." Realistically, to what degree can we be sure we know someone else's motives? (If we were honest with ourselves we'd recognize that at times we are not even aware of our own motives, let alone someone else's.)

Instead of assuming that we know how certain people feel about us, there are several other approaches we may try. We can treat people well, with fairness and civility, even with generosity, and see if anything changes in their attitude toward us over time. We can approach them and ask them for clarification about their statements about us or their intentions toward us. Or we can simply dismiss our thoughts about them, "What I think s/he thinks of me is just guesswork anyway, and probably none of my business."

Negatively Magnifying Lens

We can also agitate ourselves by focusing on negatives in situations and excluding the positives. For example, we may selectively zero in on the downside of changes at work and ignore possible benefits.

Challenging ourselves to make a list of both positives and negatives of a situation can reduce our distress. What-ever we look for is what we'll see, and whatever we zoom in on will predominate in our minds. The habit of in-tentionally looking for positives, focusing on the bright side, is a superb way to begin cultivating an optimistic mindset, which in itself is a major stress buster.

Taking Offense

We can also get angry—that is, stressed—when we come to believe that someone "dissed" us or otherwise mis-treated us. This perception activates our self-protective brain circuits in a hurry. Our mind rages, "How dare they!"

To get unstuck from seeing red, we need to examine and even dispute our evaluation of the situation. What is the larger context of the situation? In addition, when we ascertain that someone is mistreating us, such as spreading negative rumors about us, and we are not at fault, it may help to consider the source—the person. Could it be that this situation reveals more about them than it does about us? Are they worth confronting, or would we be better off ignoring the rumors and let them die a natural death? (Confronting may draw more peo-ple's attention to the situation and spawn even more negatives, upsetting us more in the long run.)

We can also ask ourselves if we have behaved in ways that may have stirred up the other person to go on the warpath against us. Have we been unfair or insensitive toward them? If so, if we do not like living in a war zone, we need to eat our pride and make amends with them. "Hey, I thought it over and I realized I didn't handle that situation in the best possible way. Please accept my apology (and possible corrections to the situation)." Period. No excuses for our behavior, no finger pointing. Sometimes the harder edge to our profession causes us to think that changing our mind or apologizing is a form of backing down, and therefore weakness that will be taken ad-vantage of by predatory others. The opposite is actually true. Making amends and correcting our errors is the more professional, courageous and mature approach.

Taking offense will lock us in a state of anger and resentment. Putting a situation in perspective and making nec-essary amends will help us move on with our lives.

Unforgiveness

Refusal to forgive is guaranteed to keep us stressed, because it causes us to stay chronically angry and on the war path. Every time we think about the perceived injustice towards us, we feel its impact all over again and we subject ourselves to the stress response. Unforgiveness is a jail we lock ourselves into because of our perception of someone else's behavior. They do the crime, we do the time. We have also heard it said that unforgiveness is like drinking poison while hoping that the person we hold a grudge against will get sick. Of course they don't. We do.

Forgiveness amounts to canceling the debt owed to us. It involves choosing to stop hating whoever did us wrong, stopping our vengeful plotting, and not rejoicing when our "enemy" falls. It can even include praying for the best for our "enemy." Yes, in certain situations we can pursue getting justice through established systems. But forgiveness involves primarily letting go of hatred. Interestingly, a number of studies have demonstrated a link between anger and ill health1, and also a link between forgiveness and improved health2.

So these, in summary, are some of the major traps that can keep us angry—entitlement, perfectionism, negative mind reading, negative magnifying lens, taking offense, and unforgiveness. Through self-discipline and repeti-tion we can learn to moderate our expectations, recognize we do not really know what people think (and some-times what they think does not really matter anyway), focus on positives, not take things so personally, and for-give. Having done those things, our feelings of anger have less fuel to keep them going.

At Desert Waters, we are continuously working towards ways to contribute to the well-being, professionalism, and healthful living of corrections professionals and their families. If you practice some of the strategies suggest-ed here to escape, or better yet, to avoid the trap of anger, take a few minutes and let us know what you did and how it worked for you. With your permission, we will gladly pass your thoughts on to your colleagues in future issues of the Correctional Oasis, so that your skillful living strategies will have an opportunity to be multiplied throughout the profession.

Williams, R. & Williams, V. Anger Kills: Seventeen Strategies for Controlling the Hostility That Can Harm Your Health. New York: Random House, 1993.
Luskin, F. Forgive for Good: A Proven Prescription for Health and Happiness. New York: Harper Collins, 2002.


Visit the Caterina Tudor page
Other articles by Tudor:
---