Biker Gangs Have Deep Roots
By Don Kelley, Probation and Parole Supervisor, Montana Department of Corrections
Published: 11/08/2010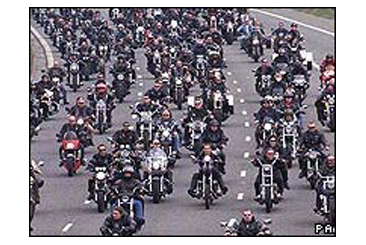 Gang issue reaches into corrections - Part III
This Part III of a five part series of articles about street gangs and motorcycle clubs, issues for both correctional officers and probation and parole officers. It is intended to provide insight into the history, function and hierarchy of some of the most violent of worlds.

As we move into the second decade of new millennium, the role that the "big four" bike clubs plays has changed dramatically. What started out as a drunken party sponsored by the American Motorcycle Association in Hollister California in 1947 has grown into a multi-national cartel of associated clubs.

Whether it's the Hells Angels, Bandidos, Outlaws or Pagans, all of the clubs answer to a "world president."

The face of the recreational biker has changed dramatically. We have gone from a bunch of drunken, World War II veterans to doctors and lawyers on Harley Davidson's.

The media coverage of biker incidents also has changed. The media no longer looks at all bikers as the "young hoodlums" described in the San Francisco Chronicle after an event in Hollister, Calif., that marked the birth of what we now refer to as outlaw motorcycle clubs.

A July 1947 hill climb at Hollister, sanctioned by the American Motorcycle Association, turned into a riot. The association later said 99 percent of the bikers at the event were law-abiding citizens and not connected to the 1percent faction that caused the problems.

Media now gives us the picture that bikers "take out their own trash," preferring to give the perspective that bikers are less dangerous now and have reached some dimension of respectability in the community. In an effort to attain a respectable image, motorcycle clubs actively recruit professional people.

Let's start at the roots of what is now the "biker culture."

Motorcycle gangs got started after World War II, when they were thought to be nothing more than youthful rebellion. Thanks to high-profile Hollywood movies and other public events, they gathered an exaggerated reputation.

The Wild Ones in 1954 and Easy Rider in 1969 glamorized biker activity and the biker lifestyle. The Hell's Angels gained broader exposure when they were hired to handle security for a Rolling Stones concert at the Altamont Speedway in California in 1969. Sometime during the show, the Angels reportedly turned on the audience and killed a fan.

During the 1970s, nearly 900 outlaw biker clubs existed, some of them with a large number of chapters that operated inside the United States. By the '80s, the FBI recognized motorcycle clubs as a national threat, ranked just behind La Cosa Nostra (Sicilian mafia).

While concentrated law enforcement actions are disruptive, the gangs have responded by recruiting attorneys who specialize in organized crime cases. Some bikers even found that going to jail has its benefits. They learned new and possibly more profitable techniques from other prisoners.

The most common question I receive when I am asked about bikers is what the 1% patch means on the vests outlaw bikers wear. Simply put, it is the signature of an outlaw biker. The outlaw biker feels that society has never given him the respect or breaks he deserves or allowed him to be a member, so now he does not want to be a part of it and rejects all of its rules, instead living by the "biker code."

It has its roots in that 1947 hill climb incident where 1 percent was cited as the troublemakers. Here's how outlaw bikers explain the "1 percenters."

A 1%er is the one of a hundred of us who have given up on society
And the politicians one way law.
This is why we look repulsive.
We are saying we don't want to be like you or look like you.
So stay out of our face.
Look at your brother standing next to you and ask yourself if you would give him half of what you have in your pocket.
Or half of what you have to eat.
If a citizen hits your brother will you be on him without asking him why?
There is no why.
Your brother isn't always right but he is always your brother!
It's one in all in.
If you don't think this way then walk away.
Because you are a citizen and don't belong with us.
We are outlaws and members will follow the Outlaws way or get out.
All members are your brothers and your family.
Will you steal your brother's possessions, money, woman, class or his humor.
If you do your brother will do you.

All outlaw motorcycle clubs have bylaws or a constitution that sets an acceptable standard of conduct and administrative procedures for the club. The bylaws cover matters such as membership requirement, penalties for misconduct, and acceptable behavior during runs or meetings. While bylaws differ from club to club, the following are examples of common ones.

All members must be male and at least 18 years of age.
All prospective new members must be sponsored by a current member.
All prospective new members must complete a probation period.
All members pay monthly dues and all new members will pay initiation fees to the national headquarters.
No member shall transfer from one chapter to another without the permission of both presidents and will pay a transfer fee to the national treasurer.
When a member is in another jurisdiction, he will abide by their by-laws and president.
Any member caught using the needle will lose his colors and everything that goes with them.
Members may only ride Harley Davidson or Indian motorcycles.


Other Articles in this Series


Part I - Street Gangs Got Start in L.A.

Part II - Gangs Lure Members in Getting Foothold br>
Part IV - Three Bike Gangs Dominate Montana .

Part V - Hells Angels not big force in Montana
---