The following is an excerpt from Joe Bouchard's keynote speech to the Wisconsin Correctional Association in September 2010. Thanks to the wonderful corrections professionals that make up this association. 
I gained a little medical wisdom from my doctor recently.  She and I discussed what has been described to me as my loud snoring. We sought to eliminate variables.  One topic that we touched upon was my choice of pillows.  She said seven words to me that started a strange chain of thinking.  "A pillow is a very personal thing."
This made perfect sense to me. And I took this phrase and applied it to the notion of family.  Just like with a perfect pillow, if you are comfortable with a family, you will very likely get a good night's sleep.  If the pillow (or family) is not a good fit for you, the discomfort may keep you up at night.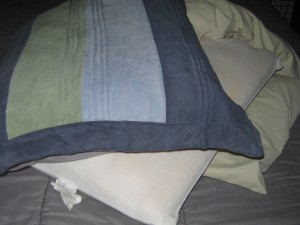 There is no perfect pillow for everyone.  There is no uniform panacea. There is no one-size-fits-all.  If you are comfortable with a flat pillow, it does not matter if the majority prefers two fluffy pillows.  What works best for you is best for you.  A bad fit can be tolerated, but is less than optimal.  A pillow is a very personal thing. Read more…
joebouchard Assessing the organization, Staff relations, What the...?!?