Without a doubt, it was one of the strangest greetings that I have ever experienced. Clearly, she was transformed. Her large gray/green eyes shone brightly and her face was glowing. Her expression reminded me of the face of a child who had just opened history's best birthday present. In a voice laden with unmistakable enthusiasm, she exclaimed, "Look at my new robot!" Her smile was
an enigmatic twist, a mingling of pride, wonder, and jubilation.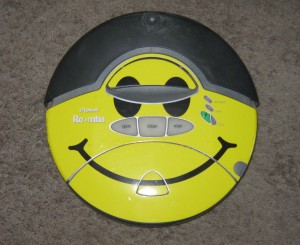 What I saw was a gray disc methodically traversing every square inch of my carpet.  This 24 inch motorized vacuum was no thicker than a 1,200 page book and probably lighter. No, this was not a humaniform robot as depicted in an Isaac
Asimov novel. But, it certainly was a useful tool.
New tools can be wonderful. Their very existence allows us to save labor and even enjoy an otherwise mundane day. But is the future always brighter? Will the new wonders break down? Will we take for granted what was previously marvelous?
Will everyone welcome changes with open minds and arms? Read more…
joebouchard Assessing the organization, Staff relations, Training